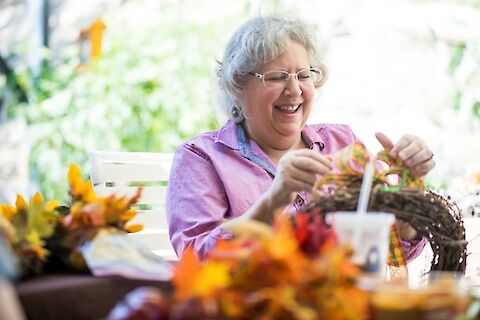 If you are a senior, or caregiver for an older adult, who enjoys arts and crafts, you will want to check out the "We Craft Box (Senior)" subscription box. Seniors in the Boston area can now enjoy a monthly dose of crafts delivered to their front door. To keep things exciting, the crafts change each month, allowing seniors to try new activities and crafts each time they get a new box.
What Kinds of Crafts Come in My Box?
Each month we will include new, exciting themes to our "We Craft Box (Senior)" to ensure that the arts and crafts stay interesting and captivating to our subscribers. Your box will also contain a storyline that you can follow as you do your crafts. They include stories designed to inspire your crafts and help get your creative juices flowing as you make your one-of-a-kind creations that tell a story all their own.
Along with your crafts come a variety of supplies, including geometric shapes, wreaths, 3D paper flowers, sun catchers and wind chimes. These are just some examples of crafts that have been included in our past boxes. Each box will include several handpicked crafts that are designed to spawn your creativity and inspire each project that you make.
Moreover, each month will teach a new artistic skill. Learn how to make tassels. Master shading techniques or other artistically-related skills.
Great to Do Alone or with Friends
Whether you do your crafting at home alone or add joy by creating with friends and family, you will find meaning in each individually packed box. You can share these fun activities with family and friends. They will be sure to delight everyone who is crafty in your life. The crafts pack up into their original boxes, making them easy to transport wherever you go.
Great for a Gift or to Treat Yourself
Whether you are looking to treat a special senior in your life who is creative and loves to try their hand at something new, or want to buy something to treat yourself, the "We Craft Box (Senior)" is for you. You will find something fun to do, as well as learn some new artistic skills along the way.
These boxes are a great way to "sample" new crafts each month. Discover new activities you love or hone your already existing skills. You just might find your new crafting hobby through your latest "We Craft Box (Senior)". Better yet, each box is delivered directly to your front door each month. That means all you have to do is retrieve your box and craft away. Everyone loves "happy mail," and the "We Craft (Senior)" subscription box is just that!
At Senior Helpers, we're dedicated to helping older ones find new and fulfilling hobbies in their local communities. For further information on activities that you can do in the comfort and safety of your own home in the Boston, Cambridge, Somerville, and Waltham areas, please contact us.