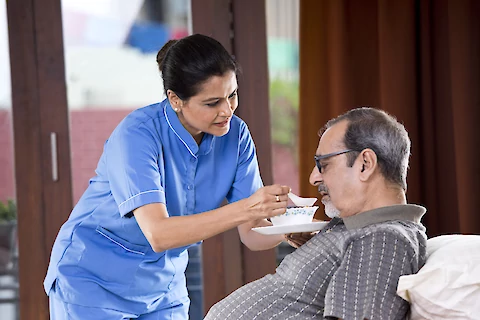 The Home Caregiver vs the Finicky Eaters in Des Plaines
One of the most challenging aspects of consistent senior care is mealtime. When senior clients become finicky eaters, the planning and preparation of daily meals become harder.
At Senior Helpers in Des Plaines, our caregivers strive to prepare and serve nutritious meals. This is with the expectation that our clients will partake to maintain good health. Sometimes, clients have a different attitude about mealtime. 
Seniors are Finicky Eaters
The term "Picky Eaters" most commonly refers to children. There is much written on the subject. Creativity and trickery are the most suggested ways to try to get children to try new foods and eat them. However, our clients are not children. So, the question is; does trickery really work on seniors? The answer is no. 
Seniors are smart, intuitive, and set in their ways. They become finicky eaters not related to bad behavior as in children but due to the changes in the human body as they age. The caregiver gets to know their finicky eater and the reasons for the loss of appetite or complete refusal of food through consistent senior care.
What's the Cause 
Around-the-clock care is the best way to observe and learn a client's habits. For example, the time of day a client is more cooperative with eating might lead to a new mealtime. Having live in-home care offers this type of flexibility in schedules also. It would be much harder for the caregivers of finicky eaters to pick up on the reasons for the loss of appetite without 24 hour home care.
A caregiver's attention may be drawn to serious factors that cause sudden changes in eating habits such as reactions to new medications, loose-fitting dentures leading to trouble chewing, trouble swallowing, dehydration, dry mouth, constipation, or illnesses such as urinary tract infections that need immediate medical attention.
Other factors a caregiver may be able to help with are loneliness, depression, as well as feelings of humiliation. Offering senior companionship can help with the long hours of sitting, the sadness that comes from the loss of elderly friends and distant family members, the humiliation clients feel when losing privacy during bathing, dressing, and bathroom habits, along with all the emotions of losing the abilities to maintain personal habits and accepting outside help. Addressing these emotions with compassion and companionship may encourage appetite.
Science proves that loss of appetite comes from changes in smell and taste. Nothing tastes familiar anymore. A client's memory of the enjoyment of certain foods may persuade them to request that meal, just to find out, it's not the same anymore. A caregiver cannot do much for this disappointment except be there to encourage positive thinking and offer an alternative food.
How Caregivers Can Help
What can a home caregiver do to help their client maintain a level of nutrition when so many factors affect their loss of appetite?
Forget the big 3-meal a day plan   
Replace meals with snacking on finger foods throughout the day
Introduce liquid meal replacements
Stop using utensils and large, heavy glasses, cups, bowls, or plates
Find out the best time of day your client likes to eat
Be patient
Be flexible
Do not take the client's refusal to eat personally
In Conclusion
Being a caregiver of good cheer and acceptance of the client's ever-changing needs as well as habits will make the job a pleasure to serve.
Being flexible at mealtime or creating several mealtimes during the day will keep a pleasant environment in the home for everyone. With 24 hour care, a caregiver has the ability to learn more about the client's needs and personal desires, identify when immediate medical attention is necessary, and when a little touch of love and caring is all that is needed to make mealtime a good time.
Contact Senior Helpers in Des Plains for more information about our services. We serve Des Plaines, Elmhurst, Oak Brook, Park Ridge, and the surrounding areas. We are standing by to help you and your family.