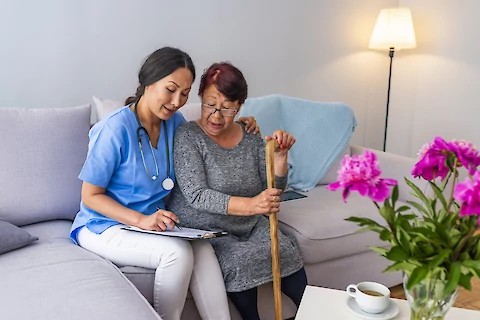 In-Home Senior Care in Des Plaines, IL
Many uncomfortable changes occur as we grow older and sometimes we need a little support with our day-to-day tasks. There is no shame in asking for help. The assistance of an effective caregiver can lessen any apprehensions you may have about transitioning into a consistent at-home senior care or senior companionship situation. 
You may feel as if you are giving up certain freedoms and privacies that you have grown used to, but that isn't the way it has to be. It is your home. Great care doesn't have to come at such a steep price. Excellent caregivers are available to support you in your current lifestyle and they aren't hard to find.
Discovering the best care available is essential for positive aging in place, in the comfort of your own home. But who should you choose? What attributes do you look for in a caregiver when you are searching for in-home senior care?
Compassion
Exercising compassion is the most important attribute of a caregiver and it involves much more than showing empathy towards your current situation. A compassionate caregiver is attentive to your needs, a wonderful listener, and gladly helps you accomplish your goals.
A compassionate person will always take your emotions and feelings into consideration and will not make decisions for you. After all, you are in control of your life and what you do with it.
A sympathetic caregiver is a supportive assistant who enters your life with the single goal of making your day-to-day activities easier and more efficient. They can offer you and your family peace of mind when it comes to your health and safety. We could all use someone like that in our lives.
Experience
An experienced caregiver is consistent, dependable, and can guide you through the ins and outs of anything you may find difficult, such as navigating the healthcare system, for example. A caregiver learns, through experience, what you need before you realize that you need it. They have learned how to serve as a guide and not act as a bulldozer in an attempt to restructure your life to fit their needs and expectations. 
An experienced caregiver can remain calm in any serious circumstances, and they will communicate fully and honestly with you about anything they notice about your health and safety while reassuring your autonomy. They will advocate for you, not tell you what you have to do or need to do. 
Respect
The perfect caregiver respects you and your quality of life. They will respect the life you have led and the life you are continuing to lead.
Whether you just need overnight senior care, 24-hour in-home senior care, or just check-in visits, an effective and dependable caregiver will acknowledge and respect your wishes and the rules of your house. They will listen to your goals and concerns, and they will respond with compassion and understanding. 
Senior companionship is truly a gift given to you because you deserve to live your best life. You deserve to be where you feel safe and, literally, at home. Around the clock care by a compassionate, respectful, and experienced caregiver can allow you to do just that. It's your turn to relax, spend time with your family, and let someone you can trust handle the smaller things. We can help!
Contact our experienced caregivers at Senior Helpers for the most dependable and compassionate in-home senior care. Our entire goal is to ensure your happiness and quality of life, no matter the circumstances. We promise to respect and uphold your freedom, privacy, and dignity. We are here for you.