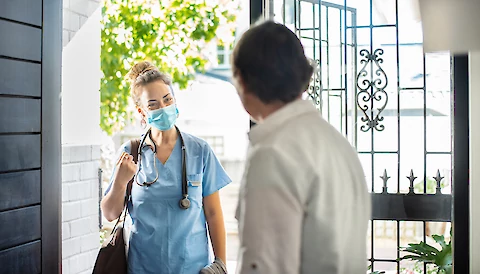 How to Have a Successful First Day With Your Professional Caregiver
Caring for your senior loved one can be complex. But with the help of a professional caregiver, you can ensure that they have the best quality of life possible. Once you have explored the different options and chosen the best home caregiver for your loved one, all that's left to do is welcome them on the first day of their job.
Even when you've found the perfect fit for your family, it's still normal for you, your loved one, and the caregiver to be a little nervous on the first day. Like the start of any new relationship, when the professional caregiver you have chosen arrives for their first day on the job, everyone will want to ensure that things start off well. Of course, there may be a period of adjustment. But there are several things you can do to have a successful first day with your professional caregiver.
Tips on How to Have a Successful First Day with Your Professional Caregiver
Set the Stage for a Smooth Introduction
Providing a clear picture for the person receiving care is vital to a smooth first day. The way you approach the subject depends in part on your loved one's cognitive understanding. Still, it's important to discuss with them the responsibilities and the boundaries of the caregiver. It can be helpful to have this discussion several times, especially for people with memory issues. Talking about the caregiver's experience, personality and using their name in conversation will help bring the caregiver alive as a person.
Often your loved one may have met a representative of the agency during your decision-making process. This representative is typically a care coordinator who is responsible for managing a client's schedules and services. This representative will likely accompany the new caregiver on their first day to help ease any tension. They will also set the stage for open, honest, and productive communication.
Taking a Tour
After the introductions, you and your family member will want to give the caregiver a tour of the home. Your caregiver will need familiarization with important rooms and the location of items that are part of the care plan. This tour is also the time to point out the bathroom you prefer they use, any snacks or things they may help themselves to during their shift, and any areas of the home that are off-limits, 
Every family and home has its own unique traditions, routines, and rules. Family customs aren't directly related to your loved one's care plan. But briefing the caregiver on normal household functions will help everyone feel comfortable with the new relationship.
Follow-up and Feedback
After the first day has ended, a manager or care coordinator will typically call to ask about the day. They will be interested in what went well, how the caregiver and senior got along, and ways to improve future shifts.
The follow-up step is crucial. It enables you and your loved one to evaluate the caregiver's services honestly and express any concerns. It's essential to bring attention to any issues quickly, no matter how trivial they may seem. Seniors are often hesitant to say anything negative about a new caregiver because they don't want them to get in trouble. Still, family members should feel comfortable passing along feedback of any type.
Home-care services evolve with time. The first day's goal is to begin executing the initial care plan and establishing a good relationship. By taking a few basic steps, you can ensure that you have a successful day with your professional caregiver.
Contact us for more information on how Senior Helpers Des Plaines can help you.