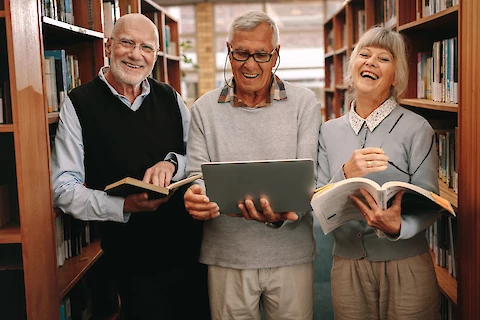 How to Find Local Friend Groups and Meetups With Shared Hobbies This Summer in Chicago
Whether an individual is a lifelong resident or new to the community, finding new groups and social activities can sometimes be challenging. However, there are several ways to find meetups, events, and like-minded individuals in the Chicago area. 
Search Online
The internet is one of the easiest ways to connect with others. 
Social Media
Social media platforms like Facebook are often used to keep up with family or search for long-lost friends. Individuals can chat with people directly on the platform or in direct messages. Individuals can also use social media to find online groups based on interests, hobbies, or even favorite television shows. Users can keep up with upcoming events and activities by liking the pages of favorite local businesses. 
MeetUp.com
Meetup is a specific social network that allows users to search for local groups based on their interests. From bird-watching to hiking, knitting, or anything else, users can join groups that facilitate in-person meetings in their area. 
The Library
The Chicago public libraries host a variety of activities. While these will vary by branch and throughout the year, the diversity of activities means there are many options for the curious individual. Activities that are often found in libraries include:
Book Clubs
Film Screenings
Adult Coloring Groups
Craft and Game Classes
Language Classes 
and more! 
Community Businesses and Attractions
Another way to explore hobbies and meet people with similar interests is to attend events throughout the community. Museums, botanical gardens, hardware stores, craft stores, record stores, bookstores, and other businesses often have a variety of events. From book readings by local authors to art classes to learn about gardening with native plants or a scrapbooking class, a local course or lecture is a great way to spend time and meet interesting people. Most businesses will list upcoming events on their website or social media pages. However, calling the company is another way to find out about events and ask specific questions. 
The Gym
Active adults may consider joining the gym to find fitness classes. Many gyms offer special classes for older individuals, from aerobics to swim lessons. There is often something for everyone. Of course, it's always best to speak with a primary care physician to discuss any concerns before starting new physical activities, but the gym is a great way to meet others who enjoy staying active. 
Volunteering
Volunteering is an excellent way to get involved in the community, help others, and meet new people. There are a variety of community resources that invite or rely on volunteers, so interested individuals should check with places that match their personal interests:
Food pantries
Local Libraries
Community Centers
Animal Shelters 
Parks and Recreation 
Local Schools 
Explore the Community with the Help of Senior Helpers in Chicago
If you or a loved one need a little assistance to explore the Chicago community or enjoy favorite hobbies, Senior Helpers provides reliable solutions. A trained, friendly professional can assist with personal and companion care to make daily activities easier. A compassionate in-home care provider offers safe and tailored in-home care, from help with hobbies to transportation to meal prep, diet monitoring, medication reminders, and more. Contact Senior Helpers Chicago/Evanston today to learn more!