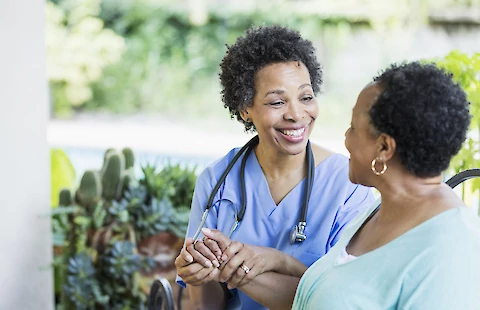 Home Health Care Services via Medicare vs. Non-medical Home Care Services
Non-medical home care services (for instance, Senior Helpers of Chicago) is provided to a person in their home. Medicare provides Home Health Care with quite a few limitations. Medicare provided Home Health only entails physical and occupational therapy at home and some needed equipment (commodes, walkers, etc.), but it does not assist with activities of daily living. Non-medical home care services will assist with daily activities such as bathing, dressing, as well as transportation. Because it is confusing, it is vital for people considering home health care services to understand what kinds of services are available, who qualifies for these services, and how to access them.
We are here to help you out. Read on.
What Do Home Health Care Services Offer?
Home health care services entail medical services provided in the patient's home. Adaptive equipment (a walker, a commode, etc.) is usually supplied, as well as one or two visits from an Occupational Therapist and some recurring visits from a Physical Therapist. Although home health care services can be valuable, you do not receive assistance with the majority of daily chores.
Do You Need Senior Helpers?
Assistance with activities of daily living is not covered by Medicare (or Home Health Care). Senior Helpers of Chicago, for example, is a non-medical home care company that can assist with daily activities and chores. We will also provide companionship, run errands, as well as help with housework and meal preparation.
In addition to helping with these tasks, caregivers also provide personalized services for seniors who have more complex medical needs.
A client with Alzheimer's or dementia will likely possess a different set of needs than someone recovering from surgery or a traumatic injury. Senior Helpers of Chicago offers customizable services to ensure that patients receive the support they need.
What Does a Senior Helpers of Chicago Caregiver Do?
Although each individual is different and requires different services, there are some everyday tasks that most caregivers do. When you hire a Senior Helpers of Chicago caregiver, here are some of the things they can do to help make your loved one's life easier:
Assist With Daily Activities
Aging or illness can make it difficult for people to perform everyday tasks independently. Caregivers assist with bathing and grooming, walking, eating, and using the bathroom. They may also help clients move around their homes or drive them to appointments when necessary.
Provide Companionship
Isolation can have adverse effects on seniors' physical and mental health. A caregiver can provide companionship by engaging in activities such as watching movies, listening to music, playing games, or simply talking.
Run Errands
Caregivers can run errands for clients, such as shopping for groceries or picking up medication. They can also take clients out to doctor's visits or other appointments, so they don't have to travel alone.
Light House Duties
Caregivers perform light housekeeping chores that help keep their client's homes clean. Laundry? Cleaning? Remembering to take out the trash? Sometimes clients need a helping hand around the house. They can help with that!
Accompany to Appointments
Visiting the doctor can be an overwhelming experience, especially for seniors. The staff is there to provide comfort and support during those visits. They can also drive you if you do not have transportation. Suppose you or your loved one is having trouble getting around; no worries! They can drive them wherever they need to go, so they never have to miss an appointment again.
Take Away
Senior Helpers of Chicago is a non-medical service that assists older adults and people with disabilities in their own homes. It is a great way to maintain independence, stay safe, as well as save money on expensive assisted living facilities or nursing homes.
Senior Helpers home care services are completely customized for your loved one's needs, personality, interests, as well as preferences. Whether you need help with just a few hours of respite care or full-time Alzheimer's care, we can help you make an informed decision about your loved one's future care needs.
To learn more about our services or schedule a complimentary in-home consultation with us, schedule your free in-home assessment, and let's explore safe solutions coming home today!