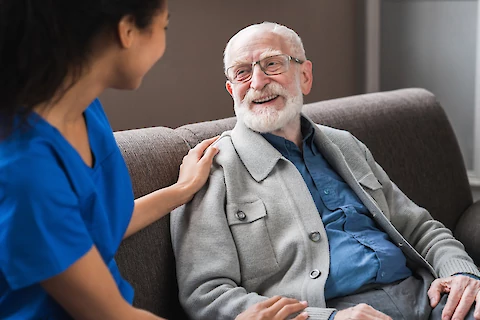 A Realistic Look at Aging in Place vs Moving to a Senior Care Community
We all, eventually, plan for getting older. Over time, living alone may become less practical and the major question becomes how you will make sure that you have the assistance you need. Should you hire a service to help you age at home, or should you move to a continuing care retirement community?
There is a real question here, and one everyone should consider as they plan for old age. Would you rather choose aging in place - staying in your home with care coming you - or would you rather move to a continuing care retirement community where you live with more assistance, but typically in a much smaller space than you live now.
In fact, there are real pros and cons to both choices, and what you'll like best will really depend on a combination of personal preferences
Aging in Place vs Moving to a Continuing Care Retirement Community
The Cost Decision
For the most part, continuing care retirement communities cost more than at-home care. Having someone to help you a few days a week, or several hours a day, costs less than the residence, medical care, and entertainment expense of a full-time retirement facility. When aging in place, you will maintain the cost of your home and you will add only the cost of caregivers/personal assistants such as Senior Helpers of Chicago.
Dominion Over Your Home vs Downsizing
Many seniors choose home care to stay in their homes as well as maintain total control over their environment. In a nursing home, you may get room cleaning and dining services, but as a guest in the facility. Care in your home, you set the rules. Residents in continuing care retirement communities also all agree to share house rules.
Vacation vs Staycation
Those seniors who choose continuing care retirement communities often go for the vacation aspect. Many retirement homes have resort-themed experiences. Activities and amenities make a continuing care retirement community feel luxurious instead of medical for as long as possible. And, they often have the benefit of planned activity schedules and other perks built-in. Nursing homes are more likely to be focused entirely on medical care and rest for the residents.
Primary Focus Medical or Personal
What will your days be focused on? At home, it can be anything you want. You can write a book, continue to focus on your crafts, or host family. In a retirement or nursing home, the primary focus is your medical care, followed by senior socializing. So make your choice based on what you want your days to be planned around.
Helped by Personal Team or Staff
Aging in place with home care, you will get to know your support team. One or more caregivers/personal assistants often share a rotation and you will know each of them personally as they help you with daily tasks. In a continuing care retirement community, you will be cared for by an ever-changing staff. You may also have the opportunity to know your team well, but a larger rotation often reduces that personal contact.
Visitors and Hosting
How will you host your family around holidays and special occasions? Many seniors choose aging in place to maintain a family space where relatives can come to visit and stay. Home care can help you maintain that home space, while a continuing care retirement community will need family visits scheduled for public spaces or outings.
Which is the right choice for you? It depends on how you want to live your retirement. Want every day to be like a resort vacation? If you have the funds to live this way, luxury retirement homes have a lot to offer. If you want to keep your personal space, routine, as well as home to host family in, aging in place with home care may be your ideal choice. For everything in between, weigh what each option has to offer you based on your own personal priorities.
Contact us at Senior Helpers of Chicago to know more about our caregiving services.