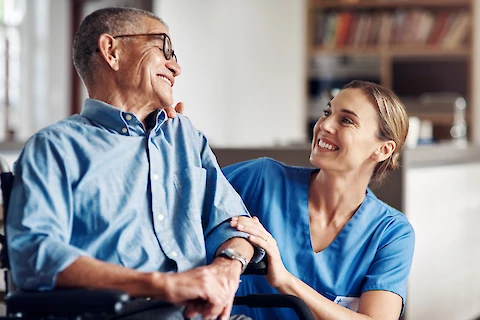 How to Choose a Senior Caregiver
If you can't personally be with an aging loved one around the clock, hiring a trusted in-home caregiver is one way to have peace of mind that they are regularly being looked after and protected. Selecting a caregiver for your senior is perhaps one of the biggest decisions you will make in your and your loved one's lives, so it's important to know what to look for when making this choice. Here are the top traits to look for in a senior caregiver:
Attention to Detail
A successful senior caregiver is a stickler for details. This comes into play on a daily level in following schedules and administering medication, but also on a broader scale in noticing gradual changes in your loved one's behavior, health, and cognitive ability. Close attention to detail can help ensure adjustments to care are made as your loved one's needs evolve. It also ensures that changes to your loved one's health and wellness are noticed and addressed as soon as possible.
Communication Skills
Strong communication skills are crucial in several respects. Your caregiver must be a diligent communicator with you and their employer to keep you both informed of the developments in your loved one's health and routines. Your caregiver must also possess strong communication skills for relating directly with your loved one in order to understand their everyday needs and wants. Depending on your loved one's health status or stage of life, the caregiver may need to interpret non-verbal or emotional cues to provide the best care.
Personal Investment
Caregiving can be challenging work, and those that are best suited for it garner personal fulfillment from the experience. Senior Helpers Orlando is the first and only national in-home care company ranked as a Great Place to Work by the Great Place to Work® Institute. Our caregivers report sentiments like their work is more than just a job, offers a sense of pride, and contributes to the greater good of the overall community. It is this sense of personal investment that sets the average caregiver apart from the stellar service provider.
Background & Experience
When selecting a caregiver for your loved one, you'll want to look for someone with field experience and the references to back it up. At Senior Helpers Orlando, we are committed to never sending a stranger into your loved one's home. This means that unlike referral services or registries, where caregivers are contracted to provide service and may do so intermittently, our caregivers are all supervised employees. We ensure background checks have been performed, and references have been consulted. We also make sure to arrange introductions between our caregiver and your loved one before care is provided, so that your loved one always opens their door to a vetted, familiar face.
Senior Helpers Orlando provides industry-leading, 24-hour in-home care and senior companionship to seniors in Orlando, Winter Park, Kissimmee, and surrounding areas. For more information about working with a senior caregiver, contact us today.