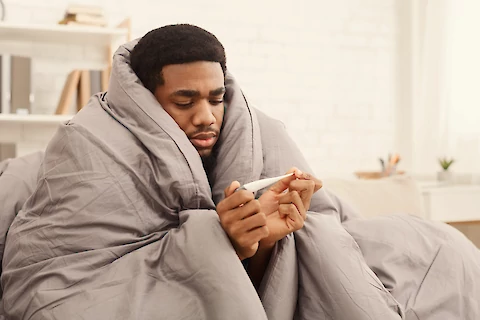 What to Do If You Take Care of Senior Adults and Have a Cold
The winter months can be exciting and refreshing, but they often bring about a slew of seasonal illnesses, such as colds and viruses. If you take care of senior adults and are currently dealing with a cold, you might be unsure of what to do. After all, seniors can be particularly susceptible to illnesses, making it important that you exercise caution so that you don't inadvertently spread the cold. Senior Helpers Fairfield has some helpful tips for anyone taking care of senior adults in and around the Fairfield, Shelton, Trumbull, Milford, and West Haven areas. 
Stay Hydrated and Nourished
When dealing with a cold, it is very important to stay hydrated by drinking a lot of water. According to Livestrong, breathing through your mouth is common when dealing with a cold, which can lead to dehydration. Drinking plenty of water can combat this, especially when combined with a decongestant. Drinking water can also help you to feel more comfortable, which can be helpful whether you are battling a cold or something more serious, such as flu or fever.
Consider Wearing PPE
Wearing personal protective equipment can help you lessen the risk of spreading a cold or another virus to senior adults. You can opt for something simple, such as gloves or a face mask, keeping extras in your car or bag. The CDC has a full list of guidelines that caregivers can follow for wearing and disposing of PPE. Another advantage to wearing PPE is that it can ward off the cold winter temperatures, helping to prevent you from getting even sicker. 
Minimize Personal Contact with Seniors
The most important thing to remember when caring for seniors while dealing with a cold is to minimize your direct contact with others. Don't offer hugs or handshakes until well after your cold symptoms have passed in order to avoid sharing your germs, and if you have to sneeze or cough, do so as far away from seniors as possible. You should also take care to wash your hands frequently with hot water and soap, as well as utilize hand sanitizer if you have it with you. It's even a good idea to place sanitizer around the house or apartment so that you can quickly sanitize your hands if need be.
Senior Helpers Offers Premier In-Home Caregiving Services
Dealing with the annoying effects of a cold can be stressful and uncomfortable. If you need some help taking care of a senior loved one while having a cold, or if you simply don't want to expose them to germs and viruses, consider reaching out to utilize the services of an in-home caregiving agency. This can allow you time and space to recover well so you can return to your duties feeling your best.
Senior Helpers Fairfield is the premier in-home caregiving service provider for senior adults in the Stratford, Fairfield County, and New Haven County areas. To learn more about us and the services we offer, contact Senior Helpers Fairfield today!