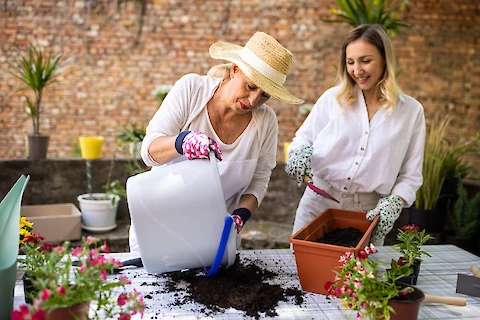 Spring often creates the urge to spend more time outdoors in nature. A great way for your senior loved one to enliven their surroundings and stay active is through gardening. Planning a spring garden with your senior loved one is a great way to bond. 
Benefits of Gardening
Gardening has many benefits for seniors, including:
Physical 
Gardening can give your senior loved one access to healthy ingredients if they decide to plant produce and herbs. Gardening also has the physical benefits of being a source of exercise for your senior loved one. This might be from carrying large items, such as bags of soil or planters around, or leisurely working in the garden. 
Mental
The mental benefits of gardening include reducing stress, creating a sense of accomplishment, and improving communication skills. The creative aspect of designing a garden with flowers or succulents will also stimulate your senior loved one's thinking capacity. They can develop color palettes and explore different layout options. 
Steps to Planning a Garden
You can help your senior loved one with their gardening project in a few simple steps, including:
Choose a Location
The first step in planning a garden is to choose the perfect location with your senior loved one. Consider elements like whether the spot will receive adequate sunlight or drainage. You also need to weigh the accessibility for your senior loved one based on their level of mobility. 
Choose Plants 
Once the location is chosen, you can decide with your senior loved one which plants would be best for their garden. Choose plants that are native to New Jersey, such as wildflowers and coastal plain plants. You should also consider annuals or vegetables. If you plan to work with your senior loved one each spring, perennials are another great option. 
Prepare the Soil
Now is the time to prepare the soil by removing any existing weeds, rocks, and roots. You may want to check with a local garden center for advice on what kind of fertilizer and soil drainage you may need to create an optimal environment for your plants. It's possible that you and your senior loved one need to add nutrients and fertilizer before planting. 
Plant the Garden
The best time to plant in New Jersey is generally between April and May. However, if there's been a cold winter or late spring frost, you will have to wait until the ground temperature reaches at least 51 degrees Fahrenheit before helping your senior loved one plant their garden. 
Maintenance
Remember that gardening is an ongoing activity and maintenance is key to the success of your senior loved one's garden. This could include weeding, trimming dead branches or leaves from plants, watering regularly, and pruning when necessary. The maintenance required depends on what you planted. 
Senior Helpers Fairfield Offers Daily Assistance
Planning a garden with your senior loved one can be an enjoyable activity that provides physical and mental benefits. Following the steps outlined above will help you create a unique garden with your senior parent in Wayne, Paterson, Butler, Sussex, Passaic County, or Ringwood. Senior Helpers Fairfield can assist with daily living for your senior loved one who wants to age in place. Reach out to us to learn all the ways we can help!