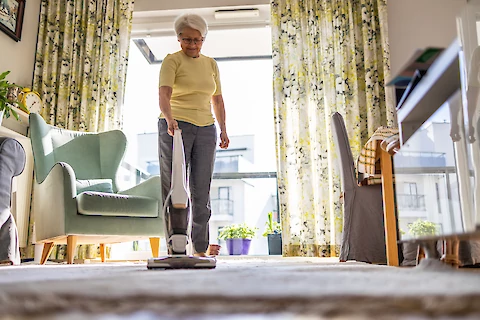 Spring is just around the corner, and that means it's time to start thinking about end-of-season cleaning. When your senior loved one or parents live alone, you worry about their safety with big cleaning jobs. Spring cleaning involves a variety of tasks. You need to ensure that your senior loved one has help for the bigger ones. 
Common Spring Cleaning Tasks
Spring cleaning can be rewarding. Here are some common spring cleaning tasks your senior loved one may need help to tackle:
1. Cleaning Out Closets
Cleaning out closets will involve carrying boxes and bags to get rid of unwanted clutter. It can also include organizing the items which remain.
2. Decluttering Living Spaces
Decluttering a living space will involve sorting items into piles and making decisions about what to keep and what to donate, sell, or throw away. Your senior loved one may need to do some heavy lifting, and you worry that they might hurt themselves. 
3. Washing Windows and Dusting
Cleaning windows and dusting involves a lot of standing, reaching, and bending. Your senior loved one needs to be careful when using cleaning solutions. Also, if your senior parents struggle with asthma or another condition affecting breathing, dusting can be a danger. 
4. Cleaning Out the Fridge and Pantry
Cleaning out the fridge involves getting down on their hands and knees and reaching behind appliances, as well as taking apart drawers. This is a task that should not be done alone by seniors. Due to the risk of injury, you want someone to be there with your senior loved one. 
5. Moving Large Appliances to Clean Behind Them
This is one task that seniors living alone shouldn't attempt. Large appliances can be heavy and difficult to maneuver. Moving them puts your senior loved one at risk of straining their back, a fall, or worse. It's also possible that a large appliance can topple over and trap your senior parent underneath it. 
6. Cleaning Carpets and Upholstery
Cleaning carpets and upholstery involves using heavy machinery, like a vacuum cleaner or carpet steamer. If not used correctly, the soil may be embedded more firmly into the fibers. This can cause further damage to the items that need cleaning. 
7. Landscaping Chores
Landscaping chores involve strenuous activities like pushing heavy equipment, disposing of mountainous piles of leaves, and digging into the ground. This is a task that should not be taken lightly by seniors living alone. 
Reasons Why Seniors Living Alone Should Avoid Tackling These Tasks Alone
Senior loved ones can be at risk for developing health issues from spring cleaning. It takes a lot of physical energy to perform some of these tasks, which can lead to exhaustion and muscle soreness.  Their safety is also a concern with certain activities. A fall or other injury can go unnoticed for hours when your senior loved one lives alone. 
Alternatives to Performing Spring Cleaning Alone
For spring cleaning tasks that are too big or difficult to handle, you can always hire a professional cleaning service for your senior loved one. Professional cleaners have the right equipment and expertise to ensure each job is done properly. They will be able to tackle bigger jobs like taking out furniture, vacuuming carpets, scrubbing bathtubs, and more.
You can also invite friends and family to help with lighter tasks like sorting through clutter or even getting rid of it by donating it. It won't take long for two people to go through a closet together. 
Senior Helpers Fairfield Provides Assistance With Light Housekeeping
Seniors living alone should avoid tackling spring cleaning tasks on their own in Fairfield, Shelton, Trumbull, Milford, West Haven, Stratford, Fairfield County, or New Haven County. Senior Helpers Fairfield helps with daily housekeeping tasks to minimize the need for a big cleaning project each spring. Check out other ways we can help your senior loved one now!