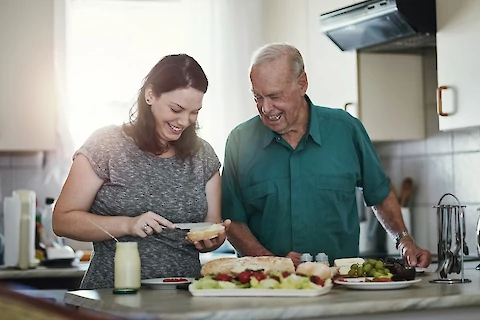 3 Heart-Healthy Meal Prep Ideas for You and Elderly Relatives
Eating well is one of the best things that seniors can do in order to live long, healthy lives. Making healthy meals for yourself or your senior loved one can be daunting, but it doesn't have to be! To help you get started on your meal prep journey and make life a little easier, Senior Helpers Fairfield has some tips and tricks to share for successfully prepping nutritiously-rich heart-healthy meals. 
Benefits of Heart-Healthy Meal Prep 
Eating a nutritious diet is essential for everyone—especially seniors who may have different dietary needs than younger people. Keeping processed foods out of the menu with more whole food options can give your senior relative the necessary nutrients needed to maintain their health. Plus, when these dishes are stored in containers and stored in the refrigerator or freezer, using leftovers or batch cooking makes staying on track an easy task.
Tips For Meal Prepping For Your Senior Relative 
Here are three invaluable tips that will ensure your meal preps are actually delivering nutritionally-balanced benefits: 
Include Nutrient Rich Foods
Focus on making sure every dish includes protein, vegetables (at least two), and good fats like avocado oil or nuts such as walnuts or almonds. This combination provides essential minerals and vitamins that older adults need most such as magnesium, vitamin B9 (folate), boron, iron & fiber all of which aid with lower cholesterol levels & improved cardiovascular function. Eat colorfully too! A rainbow array of produce adds antioxidants to each dish.
Avoid Processed & Convenience Foods
Unlike what you get at fast food restaurants and convenience stores, home-cooked meals allow diets tailored specifically to individual needs without unhealthy preservatives found in shelf-stable packaged items. Most processed foods contain a great deal of sugar and sodium. Try to avoid eating these foods whenever possible, focusing instead on whole foods that can be prepared at home. If your senior loved one is going to be traveling, encourage them to take some healthy snacks in the car.
Plan Meals Ahead Of Time
Coming up with a weekly meal plan that includes the senior's favorite foods and limiting grocery shopping trips will help control appetites for meats, starchy carbohydrates, and added sugar. Stick to meals where you can incorporate ingredients in multiple dishes (i.e., cooked sweet potatoes can be used as breakfast hash, fluffy pancakes, or even a lunchtime quesadilla). Planning ahead can also save time when it comes to managing seniors' medical needs such as medications.
Senior Helpers Encourages Whole-Body Wellness
In conclusion, meal prepping becomes easy when you make heart-healthy choices. Choose nutrient-rich whole foods over processed convenience items, take advantage of leftovers or batch cooking options whenever possible, and plan ahead with an individualized menu so everyone's dietary requirements get met at every sitting! Remember: Seniors need nutrients to support their heart health - planning for them accordingly is key! If you have questions about encouraging healthy habits for seniors in the Wayne, Paterson, Butler, Sussex, Passaic County, and Ringwood areas, contact Senior Helpers Fairfield today!