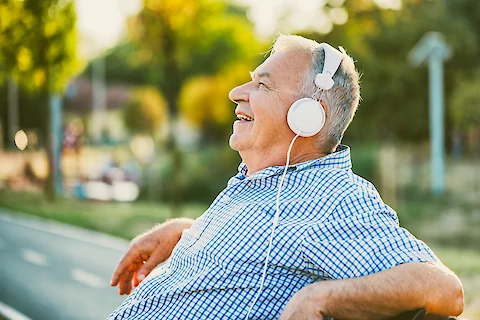 If you're paying attention to the literary scene, chances are you've been hearing the buzz about audiobooks. This fantastic new chapter in reading has been gaining popularity and is perfect for seniors who struggle with visual challenges. If you are new to this format, you might be wondering, "What is an audiobook?" Simply put, it is a recording of someone reading a book aloud. It's like having a friend read to you! From mystery novels to autobiographies and history books, your favorite genres are now available in audio format. 
The Benefits of Audiobooks for Seniors
Audiobooks offer amazing benefits for seniors. They are easy to access and can be a wonderful tool for cognitive stimulation. These books can be listened to whenever. Whether you're resting at home or out enjoying a walk in the park, they offer a great source of entertainment. Imagine having your favorite novel or a thrilling mystery narrated to you in captivating voices, making the characters come alive. That's the magic of audiobooks!
Platforms for Finding Audiobooks
Several platforms make finding quality audiobooks easy. Take Audible, for instance, a service by Amazon offering a vast library of audiobooks. There's something for every taste! Then there's Libby, another excellent platform, especially if you have a library card. With Libby, you can borrow audiobooks from your local library and listen on your device. Some authors may also have their own audiobook download options. 
Tips on Choosing Suitable Audiobooks
Finding the right audiobooks to suit your preferences is crucial. If you have any hearing limitations, try to choose books with clear, slow narration. Previewing audiobooks before purchasing or borrowing can give you an idea of the narration speed and quality. On platforms like Audible, you can alter the speed of the narration to match your comfort level. And don't forget to choose books that will hold your interest — that's half the joy of listening!
Genre/Topic Recommendations for Seniors
If you like learning, consider picking non-fiction books like biographies or history-focused titles. They can offer you a wealth of knowledge while keeping you entertained. If it's relaxation you're looking for, how about a cozy mystery or a heartwarming romance novel? Audiobooks are an excellent medium for uplifting stories that can brighten up your day. Finally, books on mindfulness and meditation could offer calming listens that soothe the mind.
Exploring the world of audiobooks can open many doors for seniors, providing cognitive stimulation, entertainment, and accessibility. They can make your favorite books even more enjoyable. Platforms like Audible and Libby make finding and listening to audiobooks simple and convenient.
In-Home Care Assistance for Seniors
If you live in Fairfield, Shelton, Trumbull, Stratford, or anywhere in Fairfield County or New Haven County, reach out to us at Senior Helpers Fairfield. We're here to make life easier and richer for our seniors, one day at a time. Our caregivers can provide essential support with daily home care tasks, self-care tasks, or transportation, as well as offer companionship services that will give you the perfect chance to discuss your latest audiobook.