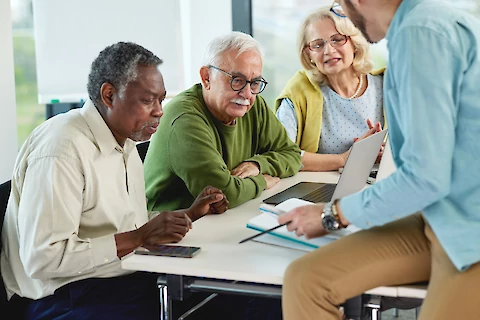 Retirement marks a significant milestone in our lives. It's a time when we can finally relax and enjoy the fruits of our labor. But did you know post-retirement is an ideal time for seniors to explore new horizons, dive into new activities, and learn new skills?
Yes, you read that right! It's never too late to quench your thirst for knowledge or pick up a new hobby. Not only is it a great way to keep the mind sharp and fresh, but it also provides an opportunity to meet new friends and contribute meaningfully to our community. All seniors should embrace the joy of learning, even post-retirement.
The Benefits of Learning New Skills Post-Retirement
The joy of learning doesn't retire when we do. In fact, post-retirement is the perfect time for seniors to learn new skills for several reasons.
Keeps Your Mind Sharp
On a health level, continuous learning keeps our minds active and sharp. Just like our bodies need physical exercise, our gray cells also need some mental gymnastics to stay fit. By challenging ourselves to acquire new skills, we boost our memory and cognitive processes.
Helps You Meet Like-Minded People
On a social level, learning opens up new avenues for meeting people with similar interests. Sign up for a painting class, and you might just befriend a fellow art enthusiast. Join a photography course, and you could stumble upon a new companion for your morning nature walks!
Provides a Sense of Accomplishment
There's nothing more fulfilling than the sense of accomplishment that comes with mastering a new skill. It keeps us feeling purposeful and enhances our self-esteem.
Examples of New Skills Seniors Can Learn During Post-Retirement
You might ask, what skills can you start learning? The options are virtually endless and truly depend on your personal interests. You could finally learn to play that musical instrument you always wanted to try, you could delve into digital photography, get acquainted with gardening, or learn a new language.
There are also many practical skills you might find useful. Basic computer coding, cooking exotic cuisines, and learning emergency first aid techniques are all worthwhile. Choose what appeals to you the most. Remember, the goal is to find joy and fulfillment in the process.
Resources for Learning New Skills
Learning new skills for seniors during their post-retirement is easier than you think. Thanks to the internet, many online platforms offer courses across a myriad of subjects. Websites such as Coursera and Udemy have great courses designed for learners at all stages.
However, if you prefer a more traditional learning environment, consider enrolling in community classes specifically designed for seniors. Many such programs are available at local libraries, community centers, and educational institutes. Not only do these classes provide a structured learning environment, but they also offer the added benefit of social interaction.
Connect With Senior Helpers Danbury
Retirement doesn't mean you cease to grow or learn. On the contrary, it's a wonderful opportunity to dive into new arenas and expand your horizons. So, why not take this chance to embrace new knowledge and skills? You'll be surprised at how much joy and fulfillment it can bring.
Whether you choose to learn online or in a community class, remember - Senior Helpers Danbury is always here to support you on your journey. If you're based in Danbury, New Milford, Newtown, Fairfield County, or Litchfield County, don't hesitate to contact us. Let's celebrate learning at every age!