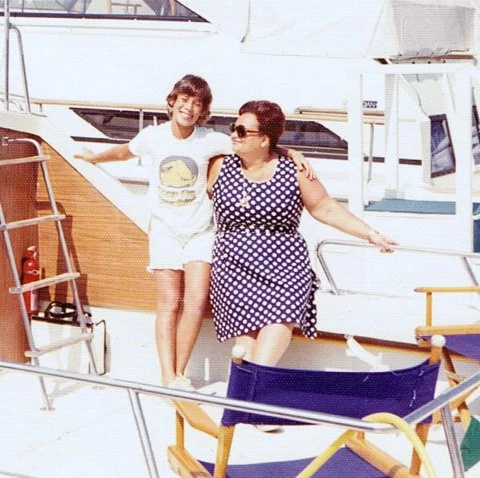 Meet the Danbury Office
There is no greater responsibility than entrusting someone with the care of a loved one. I know this firsthand because I lived it with my own family. It is my personal journey that led me to pursue a career with Senior Helpers.
I am a 33-year veteran of the Garment industry. A far cry from home health care. When I was in my late 30's my Mom had a massive stroke. A stroke was something completely foreign to me. Talk about needing to learn quickly! Seeing my Mom in the ER with a vacant stare was beyond scary, and I sought out the best rehab center for her upon her discharge from the hospital. I thought once she completed her stint there my parent's lives would resume normalcy. I soon came to the realization that this was not the case. Our roles were suddenly reversed, and I became their caregiver and was responsible for nearly every facet of managing their lives. At that time my father was able to care for her daily needs and I took over all else - and I mean EVERYTHING!
Living in New York with its cold weather and high cost-of-living, I chose to move my parents to Florida. The hope was improving their quality of life as well as extending their savings. After living in Florida for only 9 months I received a VERY unexpected call from my Mom letting me know that my father passed away suddenly and unexpectedly in his sleep. My mother was unable to attend to her daily needs and I had no idea what to do. My wife and I had two young children and our home was not set up for my mom to live with us and get the proper care she needed. I panicked!
I moved her back to NY into the very best nursing home I could find…at approximately $18,000 a month! For the first year she lived in a room reminiscent of a hotel room, a far cry from a homey environment. The care was minimal at best and I spent many nights not sleeping knowing that she was there. Here we were spending $18,000 a month and my Mom wasn't getting the proper care needed. After the second year and going through what was left of her life savings, she was moved down to the Medicare floor. That room was basically a hospital room, and the care was minimal at best.
Looking back what I learned from my experience was that I could have rented an apartment and situated her in a warmer, cozier environment surrounded by the comfort of her belongings and hired 24-hour care for less money. She would have gotten one-on-one care in a more comfortable setting versus one person to every 15-20 in an institutional setting.
I always share my experience with perspective families for the following reasons / facts:
Most people live better in their own homes
The cost of in-home care is approximately 50% less than a facility
Possibly the most important is that the personalized care in your loved one's home is the best care possible
Why work with my partner and I at Senior Helpers?
We are hands-on owners that are here for you 24/7, 365 days a year
We become part of your family and you become part of ours
We are all about our caregivers and the care that they provide you
We perform the most extensive background checks available on both State and Federal Level and all of our caregivers are bonded and insured
We train our caregivers in many areas, and we are especially proud of the training for Dementia & Alzheimer's through our exclusive Senior Gems program based on the Gems™, techniques, strategies, and overall approach to care which was created and developed by Teepa Snow, Positive Approach, LLC.
Most importantly, we communicate with our caregivers daily and treat them with utmost respect as they are our business
Additionally, I myself conduct every care assessment to ensure all clients expectations are clearly understood and relayed to our caregivers
Between myself, and Senior Helpers co-owner and partner Mitchell, we are reachable far beyond just normal business hours as we know emergency situations often arise.
Trusting the care of a loved one is a leap of faith. Having been there myself, I understand. Call me and let's get started.