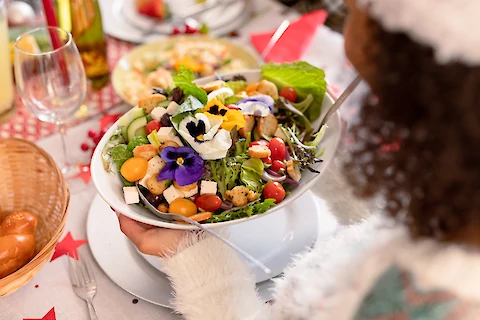 Holiday gatherings aren't exactly known for having healthy foods, but are healthy foods something you should consider for your holiday gathering this year? While healthy foods can certainly be a great addition to your holiday gathering, not everyone will be ecstatic about the decision. A mix of holiday treats may be a better option when hosting a big holiday gathering so everyone can be happy with the food.
What Are the Pros and Cons of Serving Healthy Holiday Treats?
Not everyone is a fan of how healthy holiday treats taste, and some people expect to eat somewhat unhealthy over their break from work and other responsibilities. It's simply part of the holiday fun! That doesn't mean you shouldn't serve any healthy holiday treats. You may have some members of your family who prefer to eat healthy over the holidays, or they may have a specific diet.
Pros
Rich in nutrients
Lower risk of feeling ill after a big dinner
Less sugar and/or fat
Healthy treats can taste just as good as unhealthy ones
Family members who are on a specific diet can eat food without worries
Cons
Some people don't want to eat healthily over the holidays and may be upset if there are only healthy choices
Healthy food is typically unpopular during holiday gatherings
Healthy treats don't taste good to everyone
Senior loved ones may better benefit from eating healthy at holiday gatherings. As a person ages, their metabolism slows down, and they begin to burn calories at a slower rate. Eating unhealthy foods cause a person to feel ill or sluggish at times, and a slow metabolism can make the feeling worse. They may also have to stick to a certain diet or restrict some foods due to health issues, so having a mix of foods helps them out and makes them feel included!
Should You Serve Healthy Holiday Treats?
It's always a good idea to serve some healthy holiday treats at big holiday gatherings, but it's also essential to ensure everyone will have something they like. Some people may prefer healthy treats, while others won't want to worry about eating healthy over the holiday season. It would help to consider your family's likes and dislikes when preparing your holiday meal, but adding a few extra things is perfectly okay. It all depends on who is coming to your gathering; you'll want everyone to be satisfied with their meal.
Enjoy the Holidays With Senior Helpers of Thousand Oaks
When you or a senior loved one require at-home care in Thousand Oaks, Westlake Village, Oxnard, or Newbury Park, Senior Helpers of Thousand Oaks are happy to provide you with it. We will do our best to make sure your senior loved one can maintain independence while still receiving the care they need. Senior Helpers can provide companionship, help with chores or hobbies, and remind your senior loved one to take medications. Contact us at Senior Helpers of Thousand Oaks today for more information.