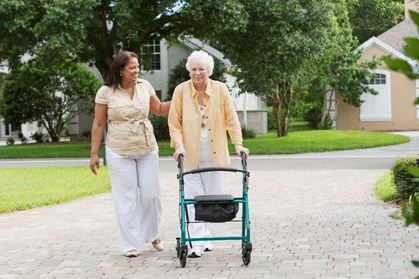 Safe and Fun Summer Activities for Seniors
Summer brings warm weather, vacations, and endless fun. During this time, it can be challenging to determine what activities are safe and fun for seniors. That's why we have come up with six activities that you can enjoy in the summer with your loved ones. Ensure that you are staying safe outside by wearing sunscreen or a hat to prevent sunburn and stay hydrated while participating.
1. Swimming or Water Aerobics
Water-based activities are helpful for seniors to beat the heat and stay fit. These activities are low impact to help individuals who have arthritis or stiff joints. Water exercises can also increase bone density and muscle mass to help with flexibility and reduction of pain.
2. Reading a Book
There are many benefits of reading that include reducing stress, enhancing sleep, sharpening decision-making, and possibly delay the onset of Alzheimer's disease and dementia. Reading can also help you experience a whole new world of romance, thrills, horror, or action, depending on your preference.
3. Putting a Puzzle Together
Puzzles are great for seniors when it comes to preventing boredom and boosting their mood. They also require seniors to concentrate on the task, which allows them to improve their concentration skills and build their cognitive reserve.
4. Going for a Walk
Walking strengthens bones, improves mobility, and decreases pain which is crucial to those over 65. Going on a nice walk to the nearby park or around your hometown helps relieve stress and gives you a nice change of scenery.
5. Crafting or Sewing
Arts and crafts or sewing is a fun activity to create something to be proud of. Making a blanket or creating a painting can help stimulate the senses, boost your mood, and trigger positive memories.
6. Gardening
Gardening is a perfect choice for those who like to be outside and get their hands a little dirty. It can also reduce the risk of Alzheimer's and related forms of dementia. Engaging in this activity helps gain exposure to vitamin D while providing nutritious fruits and vegetables to your home-cooked meals.
Senior Helpers of Westlake Village provides in-home specialized care offering seniors independence and the ability to age peacefully. In addition, we have exceptional services such as in-home companion care that focus on improving the health and well-being of your aging loved ones so they can get the most out of life. Senior Helpers also has proprietary programs such as the Senior Gems and Parkinson's Programs created with extensive training and experience to provide the right level of individual care and support while carefully monitoring everything from medication to daily activities. To learn more, please visit our Services Page.