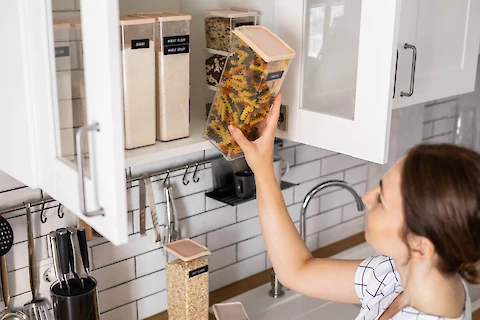 Making a few creative adjustments can go a long way toward making a home safer and more convenient for seniors to live in. Being diagnosed with dementia, Alzheimer's disease, Parkinson's disease, or most other health conditions does not necessarily mean seniors can no longer live in their own homes. Combining renovations with in-home care can make it easier for seniors to retain as much of their independence as possible. Here are five helpful tips for organizing and renovating a kitchen to better meet the needs of seniors!
Use Color to Improve Visibility
People with dementia or poor vision may struggle to tell things apart in the kitchen. However, younger adults tend to take it for granted. They know whether appliances are on or off and are used in the correct settings. Adding small amounts of colored paint or nail polish can make it easier for seniors to tell where the button or switch is. It can help them make sure they are cooking items properly. It can also help them turn the stove and other appliances off when they are done using them. 
Add Slip-Resistant Floors 
Spills in the kitchen are a normal part of cooking. Swapping a floor that is too smooth for something rough and grippy is an important step in avoiding falls and injuries. Porcelain tiles or vinyl flooring tend to work well for this purpose. Choosing these materials can be especially helpful for seniors with Parkinson's disease or other difficulty moving or walking. 
Move Items to an Appropriate Level
Many seniors are no longer able to crouch to reach items in low cabinets as easily as they used to. Consolidating as many items as possible in the cabinets that are the most comfortable to reach makes it easier for them to find and use what they need. To make the rearranging process as efficient as possible, seniors should think about which items they use the most. It is to ensure they are the easiest to reach and may not use enough to need to keep at all. 
Be Sure Frequently Used Items Are Accessible
Some of the most frequently used items, such as a favorite coffee mug or a small stack of plates or bowls that are used most days, may not need to be put away at all. Leaving a few of the most frequently used items in the drying rack or in a neat stack on the counter can make a difference. It may cut down the number of times seniors with Parkinson's disease or other movement restrictions need to go through a cabinet to find them. Keeping the most frequently used items in plain sight can also benefit seniors with dementia. This visual cue can be helpful if they frequently find themselves wondering where they put a particular dish. 
Remove Doors From Kitchen Cabinets
Opening a cabinet and holding it open while searching for a particular item can be more difficult for people who have Parkinson's disease or use a wheelchair, walker, or cane than it is for most other people. Maneuvering around open doors can be challenging, especially doors that are at floor level. It may be helpful to consider removing certain doors. Some are especially problematic to make finding things easier and minimize the likelihood of potential injuries.  
At Senior Helpers, we are here to help older adults in the Thousand Oaks, Westlake Village, and Newbury Park areas. We can also help their families find helpful solutions for living as independently and safely as possible. Contact us today for more tips for adjusting other rooms too. We can meet the needs of seniors that are considering in-home care!