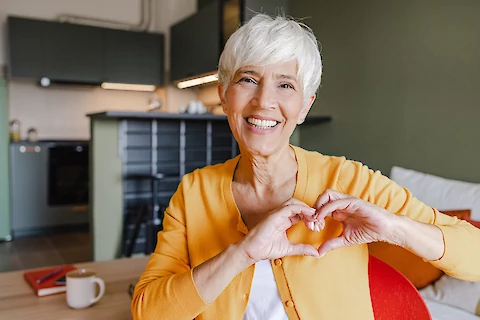 February is American Heart Month, and at Senior Helpers Thousand Oaks, we are dedicated to the health of our senior clients. Our goal is to provide you with the information you need to take the best possible care of your heart. Read on for our FAQs that will help point each and every one of you in the right direction.
Q: What is Heart Health?
A: Heart health is the general state of your cardiovascular system, including all aspects of caring for your heart. There are some risk factors that can contribute to poor heart health. These include smoking, obesity, high cholesterol, and diabetes, as well as pre-existing conditions like congenital heart disease or coronary artery disease. Making diet and lifestyle changes before any significant problems arise is key to maintaining the most optimal level of heart health possible.
Q: What Can I Do to Keep My Heart Healthy? 
A: The most effective way to maintain heart health is regular exercise. All physical activity helps support your cardiovascular system and can prevent serious illnesses like stroke, heart attack, hypertension, and more. Eating a well-balanced diet with fruits and vegetables, whole grains, and lean protein sources, along with healthy fats from nuts or fish, will also help you keep your heart in excellent condition. Additionally, stress management is an important factor for maintaining optimal cardiovascular health. Too much chronic stress causes negative changes that have the potential to damage our hearts over time. Finally, but equally important, are regular checkups with your doctor. He or she will test your cholesterol and blood pressure and offer a full risk assessment based on your medical history and symptoms.
Q: What Are the Warning Signs of Poor Heart Health?
A: It is important to recognize the warning signs of poor heart health in order to catch any issues before they become too serious. Chest pain is one symptom that you should never ignore, especially if it's accompanied by dizziness or nausea. Shortness of breath can also be a sign of decreased circulation and oxygen flow throughout your body. Taking breaks from activity due to an increased feeling of fatigue may point towards inadequate physical conditioning for usual activities. If this becomes frequent, it could indicate a problem with your heart's ability to function correctly and consistently. Lastly, experiencing irregular heartbeat or palpitations is a signal of the heart's capacity. These should be addressed with your doctor.
Q: Where Can I Learn More About Heart Health?
A: Your primary care physician is your best friend when it comes to learning more about heart health. Be sure to schedule and maintain regular check-ups, and speak with the physician's office if you have questions in between appointments. Along with general medical education sites like NIH, you can also read resources from the American Heart Association. Their team provides up-to-date information on current developments related to cardiovascular health.
Senior Helpers Thousand Oaks Is Here For You
The caregivers at Senior Helpers Thousand Oaks have a wealth of knowledge and experience to help you stay on track with your heart health goals. We believe in the power of educating seniors so they can make safe, effective lifestyle choices that will improve their overall well-being. This includes being aware and proactive about your heart health during American Heart Month and beyond! If you have any more questions or need more information and are in Thousand Oaks, Westlake Village, Oxnard, or Newbury Park, contact us today.