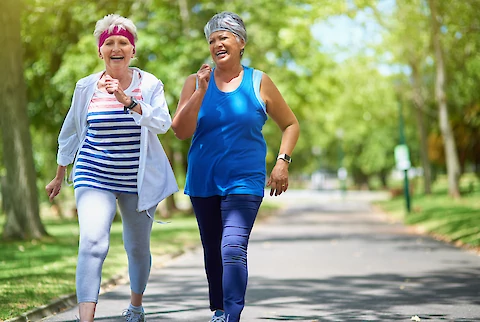 Cooler mornings and earlier sunsets are common during the fall and winter months. Walking is a common activity to keep fit among seniors. According to the Centers for Disease Control and Prevention, regular physical activity can reduce your risk of developing chronic diseases like diabetes and heart disease.
If seniors in Thousand Oaks are not well prepared for walks, it's easy to let cold mornings or earlier sunsets interrupt that routine. Here are seven tips for seniors who want to keep walking through the cooler mornings and evenings.
Wearing Layers on Cold Mornings
Wear multiple jackets and sweaters above your waist if it's cold. You'll stay warmer and will be better prepared for the cooler temperature.
Seniors can also wear layers of clothing so that when they get home they will still be warm. It is vital to ensure that the layers are not excessive. They won't get too hot and make things uncomfortable for them when outside later in the day.
Being Prepared for Changing Weather Conditions
Wearing a hat will help keep the head warm and provide protection from rain and snowflakes. If it's going to rain or snow, seniors are advised to bring an umbrella along. They won't have to stop their daily walk when the weather turns bad.
Wearing Gloves
When wearing gloves, it is essential to ensure they are thick enough to keep hands warm without being too bulky or restrictive. They don't interfere with seniors' daily routines while walking or doing other activities around Thousand Oaks.
Using a Scarf
A scarf or bandana around the neck helps keep seniors warm by keeping heat close to their faces instead of letting them escape into the cold air around them. If seniors wrap a scarf around their necks before heading out into the cold, they will be protected from wind chill —and it'll look stylish.
Walking on Clear Trails
It is advisable to look for trails where there aren't any cars or other obstacles like rocks which can cause tripping hazards during times when visibility may be low due to earlier sunsets. A flashlight comes in handy with limited visibility when earlier sunset kicks in. A reflective jacket also helps a walking senior be easily identified by motorists in the dark.
Wearing Shoes With a Good Grip
During winter months, sidewalks are often too icy, especially for seniors with mobility issues. Shoes with good grip help seniors stay steady on their feet when they're walking through slushy sidewalks or uneven ground.
Walking With a Caregiver
Walking is one of the best ways to stay healthy and fit as you age. Many seniors might find the morning air too chilly, or the sunsets come in too early to make it out for a usual walk.
In such cases, Senior helpers recommend gentle walks with a caregiver instead of going alone. Caregivers can help seniors stay safe and comfortable during walks by assisting them.
Senior helpers Thousand Oaks is a premier provider of in-home senior care in Thousand Oaks, Westlake Village, Oxnard, and Newbury Park. Contact us for an in-home assessment.