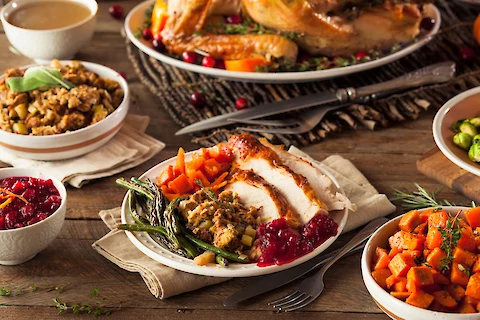 The holidays are a time for family, fun, and of course, food! But for those who have to avoid gluten in their diet, enjoying the usual holiday traditions can be difficult. While gluten intolerance can develop at any age, it can be particularly challenging for seniors.
Here are five sneaky sources of gluten during the holidays to make your holiday season easier and how you can replace them for those gluten-free relatives.
1. Gravy
Gravy is one of the worst offenders when it comes to hidden sources of gluten. Most gravies contain flour as a thickening agent, but there are plenty of ways to make a delicious gravy without it. Try using cornstarch or arrowroot powder instead; they will thicken just as well without adding any wheat-based ingredients.
2. Stuffing
Bread-based stuffing is another recipe containing too much gluten for certain diets. But don't worry—there are lots of delicious alternatives out there. Consider using rice or quinoa instead; both work great and give the stuffing a unique flavor and texture that your guests won't forget anytime soon.
3. Baked Goods
The sweeter side of the holiday spread isn't exempt from containing hidden sources of gluten, either.
Baked goods are among the most challenging items to make gluten-free. But with a few tricks, you can make delicious and safe treats for your family. Try substituting almond flour or oat flour instead of wheat flour; it will give you the same texture without any dangerous gluten.
Also, check labels closely when buying store-bought cookies, cakes, pies, and other desserts. Better yet, make them at home with certified gluten-free ingredients if you can.
4. Cranberry Sauce
While cranberry sauce may seem like an innocent dish, many brands add wheat flour as a thickener to their recipes. Be sure to check labels carefully and if you want to make it yourself at home for peace of mind, try combining cornstarch or arrowroot powder with cranberries and water over medium heat until thickened.
5. Sauces & Dressings
Many sauces and dressings use wheat flour as an emulsifier, making them off-limits for some people during the holidays. A great way around this is by making your own sauces at home using fresh ingredients. This way, you can control exactly what goes into each dish so everyone can enjoy themselves without worrying about food allergies or sensitivities getting in the way.
Contact Senior Helpers Today
The holidays should be a time when everyone can come together and enjoy great food without having to worry about allergies or sensitivities getting in the way. By taking these simple steps and being aware of what goes into each dish on your menu, you'll ensure that everyone has a safe and stress-free holiday season full of delicious memories that will last long after the festivities end.
If your senior loved ones in Thousand Oaks, Westlake Village, Oxnard, or Newbury Park need any help planning their holiday meals or navigating a gluten-free diet, consider reaching out to Senior Helpers Thousand Oaks for assistance. Our experienced caregivers are here to help make the holidays as merry and bright as possible. Contact us today to learn more about our services.