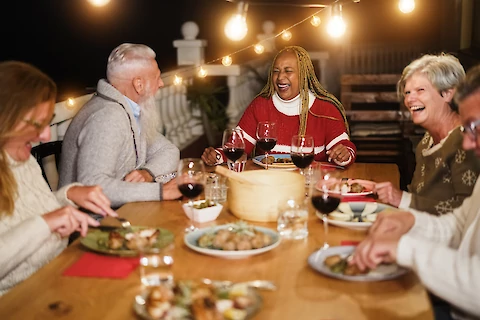 When a senior loved one plans to host a holiday get-together or attend one, the caretakers want to ensure that they have a stress-free occasion. Such gatherings bring up good memories and can improve a senior's mental and social life.
If there are going to be fast-moving activities, caretakers want to ensure that the senior is safe but also engaged so that they feel happy and comfortable even as they get involved in various activities. This is an essential consideration for the senior's overall well-being. Caretakers can do a few things to help the senior enjoy the get-together without feeling stressed or overwhelmed.
1. Create the Event Checklist
If the senior is hosting a get-together in their home, a caretaker can create a checklist of the items needed to make the event successful. This depends on the senior's likes and preferences. Here are the several items that may be needed for the event: 
Food
Drinks
Decor
Entertainment 
Greeting cards
Holiday movies 
It is important to create the checklist earlier and buy the items before the big day. This will help avoid the last-minute rush, and the senior will also be at peace knowing that everything is taken care of in time. Once the guests arrive, the caretaker will have put everything in place without getting overwhelmed with planning and organizing. 
2. Understand the Support the Senior Would Need 
With many activities anticipated at the get-together, it is crucial to give the seniors the care and support they need during the get-together. Do they need someone to stay beside them? Do they need to be reminded of their medication? If they need or want to leave the event, for instance, the carer should be readily available to help them. Be prepared to support the senior (physically, emotionally, or mentally) and make their stay at the event comfortable, safe, and less stressful. 
3. Ask for Help from People You Know 
Holiday get-togethers can be overwhelming when handling everything alone. Caretakers may have many things to deal with even as they ensure that a senior loved one remains safe and comfortable during the gatherings. If a caretaker feels overwhelmed, it'd be best to ask for help. Reach out to other family members and friends attending the same event and find out if they can help you handle various activities. For example, if the senior is planning to attend the get-together in a different location, the caretaker can ask family or friends to facilitate transportation and other essential elements they may need help with.
4. Plan and Make Financial Decisions on Time 
Early planning and organization, especially on matters of finances needed for the get-together, will likely take away the stress of struggling to find money at the last minute of the big day. Saving is a great idea and an excellent way to avoid stress as you help a senior loved one plan for the get-together. Caretakers can create a savings plan and aside a few dollars each month, as they wait for the big day. 
The Bottom Line
Many things are involved in making a get-together successful yet less overwhelming for the caretaker and the senior they are taking care of. If you are looking for help from a professional caregiver, Senior Helpers Thousand Oaks is here for you. We offer a wide range of services in Thousand Oaks, Westlake Village, Oxnard, and Newbury Park CA, enabling seniors to live a comfortable, fulfilled, and quality life. Contact us today and let us help you take care of your senior loved one so that you focus on other tasks.