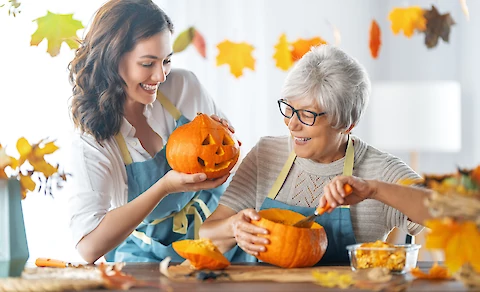 The treat or trick season is around the corner. Even though Halloween has changed a lot over the centuries, most people are always intrigued by its spooky ambiance. During this period, people of all ages indulge in fun and frightful activities such as parties, costumes, and candy treats. However, for some seniors, participating in Halloween can be overwhelming. To some, the idea of getting in and out of a chair to pass out candies can be tiring.
The good news? There are other fun, senior-friendly activities seniors can indulge in Thousand Oaks during the celebration of Halloween.
Watch Halloween Movies
Watching a spooky film can be a great alternative to giving out candies. While there are endless choices of Halloween films today, classic ones are a perfect time machine to help seniors fall back in time to their childhood memories. Grandchildren can also introduce the seniors to modern Halloween movies.
 If frightful scenes can trigger anxiety in seniors, particularly those with dementia, a movie with a fun theme can be an excellent choice.
Suggestions:
The Addams Family
Casper
Coco
Hocus pocus
Young Frankenstein
Spooky Stories
Nothing beats the thrill of storytelling. Thanks to technology, it's possible to access books of different genres without visiting a library. Seniors can participate in Halloween by reading their favorite classic Halloween tales to their grandkids. Another excellent way for seniors to celebrate the spooky season is to have them sit with their grandchildren and let the kids read to them.
Suggestions for Seniors:
The Wendigo by Algernon Blackwood
The Black Cat by Edgar Poe
Frankenstein by Mary Shelley
Suggestions for Kids:
Monster Academy by Jane Yolen
Bonaparte Fall by Margery Cuyler
What was I scared of? By Dr. Seuss
Festive Crafts
Seniors can explore their creativity by:
Decorating Pumpkins
Pumpkin decoration is one of the most common senior-friendly Halloween fest crafts. This kind of festive craft does not necessarily mean pumpkin carving for jack-o-lanterns. There are other ways seniors can decorate pumpkins without using sharp items such as knives that could harm them. The alternatives to curving include:
Painting pumpkins
Adorning the pumpkins with decorative items
Drawing funny faces
Taking Spooky Photos
Halloween is one of the most photo-worthy seasons. While photos bring great memories, caregivers can set up a photo booth with spooky props and let Seniors take photos dressed up in costumes.
Making Cards
If seniors prefer a quiet season, caregivers can get them supplies from a local craft store to make Halloween-themed cards.
Make Spooky Candles
Seniors can also participate in making Halloween candles. However, extra care should be taken because certain candles can degrade indoor air quality.
Making Decorative Spiderwebs
With the help of a caregiver, seniors can make decorative spiderwebs using beef nettings. They can watch YouTube videos to get more insights on how to make one.
Halloween celebrations are often unavoidable, and anyone can participate regardless of age. While seniors can enjoy the spooky season, caregivers should take extra care to ensure that:
Decorations do not turn into tripping hazards
The atmosphere is friendly to seniors living with dementia
Decorative items do not degrade the indoor air quality
The Halloween treats are healthy
If you need any assistance taking care of your loved one during Halloween, we can help. At Senior Helpers Thousand Oaks, we are a licensed and insured company offering in-home care services around Thousand Oaks, Westlake Village, Oxnard, and Newbury Park.
Our services range from companionship and personal care to specialized care for seniors with Dementia, Alzheimer's, and Parkinson's. With our unmatched standard of care, we ensure your senior loved one maintains a happy and fulfilling lifestyle. Contact us today for more details.