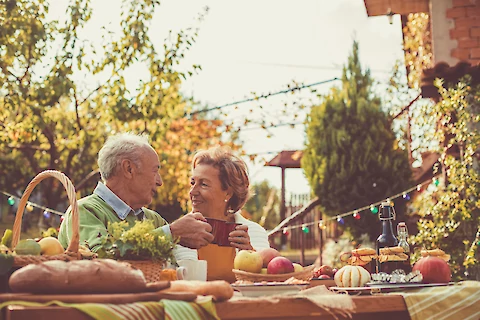 As autumn leaves begin to fall, maintaining a healthy diet becomes an essential focus, especially for our senior population. The change of seasons not only brings new flavors to the table but also the need for increased immunity with flu season around the corner. By incorporating seasonal fruits and vegetables into their diet, seniors can enjoy the season and reap the nutritious benefits.
The Importance of Good Nutrition in Autumn
As temperatures drop, our bodies need to adjust to cooler weather. This adjustment can be even more critical for seniors as the immune system becomes more susceptible to common colds and the flu. Maintaining a balanced diet rich in vitamins and nutrients is a robust defense mechanism against these seasonal illnesses. Foods loaded with vitamins A, C, and E, as well as selenium and zinc, can significantly boost our immune system.
Seasonal Fruits and Vegetables in Autumn
Autumn brings a diverse variety of colorful and nutrient-rich fruits and vegetables. Apples, rich in dietary fiber and vitamin C, are plentiful during this season. Pumpkins, a great source of beta-carotene (which our bodies convert into vitamin A), are also a fall favorite. Other vitamin-packed autumn vegetables include Brussels sprouts, beets, and sweet potatoes. Each of these vibrant veggies contains a plethora of healthy nutrients such as fiber, vitamins C and K, and antioxidants.
Incorporating Seasonal Produce into Meals
Variety is key when integrating these nutrient-rich foods into your daily diet. Here are a few ideas:
Breakfast
Kickstart your day with a healthy breakfast of oatmeal topped with freshly cut apples and a sprinkle of cinnamon - a heartwarming bowl of goodness. 
Lunch
For lunch, consider a beet and goat cheese salad. The earthy flavor of roasted beets pairs beautifully with the tanginess of goat cheese, delivering a nourishing and delicious midday meal.
Dinner
Staying warm in the cooler temperatures is vital, and a creamy pumpkin soup can serve as the perfect dinner meal. Not only is it comforting, but it also packs a punch with its high vitamin A content.
Snacks
When it comes to snacks, roast a batch of sweet potato wedges or Brussels sprouts. These make for a tasty treat that can be enjoyed throughout the day.
Senior Helpers Thousand Oaks Can Help With Meal Planning and Prep
The autumn months bring an array of delightful, health-boosting fruits and vegetables to our plates. By incorporating these seasonal foods into daily meals, seniors can significantly enhance their nutritional intake and immunity, preparing their bodies for the cooler weather ahead.
At Senior Helpers Thousand Oaks, we are committed to supporting seniors throughout Thousand Oaks, Westlake Village, Oxnard, and Newbury Park. We provide guidance on nutritional needs and overall health and wellness. Contact us today to discover more about how we can assist in supporting a healthy and fulfilling lifestyle for the seniors in your life. Our caregivers can partner with seniors to plan and prepare healthy meals featuring the fall's best offerings. We look forward to helping you enjoy the health benefits of this bountiful season.