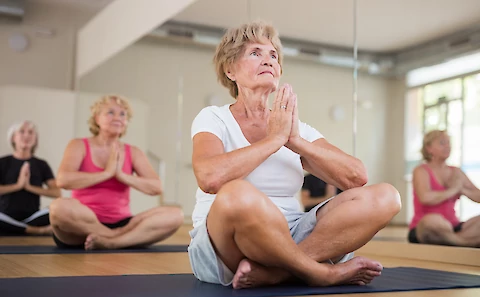 In this increasingly hectic world, maintaining health and wellness is a top priority, especially for seniors. Yoga is an age-old discipline that offers a wealth of benefits, regardless of when you decide to embark on your yoga journey. If you are in your sixties or beyond and have been thinking about trying yoga but are unsure of where to start or whether it's even feasible, you need to learn more. 
What Is Yoga?
Yoga is a comprehensive mind-body practice rooted in ancient Indian philosophy. It blends physical postures, breathing exercises, and meditation to promote overall health. Styles of yoga range from more vigorous forms like Ashtanga and Vinyasa to gentler styles like Hatha and restorative yoga. 
Benefits of Yoga for Seniors
Practicing yoga has numerous benefits, especially for seniors, including:
Physiological Benefits
Physiologically, it improves flexibility, building strength in muscles and boosting endurance. Over time, yoga asanas (postures) lead to better balance, reducing the risk of falls, a prevalent issue in older adults. 
Cognitive Benefits
Cognitively, yoga improves focus and concentration. The practice of paying attention to your breath and body during yoga aids in enhancing memory, critical thinking, and problem-solving abilities, empowering seniors to lead an independent lifestyle. 
Mental-Health Benefits
Mentally, yoga is a stress buster. The mindful movements and deep-breathing techniques induce a relaxation response, alleviating stress and anxiety. Regular practice can significantly improve mood and overall mental well-being.
Starting Yoga Past Sixty
Before starting a new exercise regimen such as yoga, consulting with your healthcare provider is crucial to ensure your safety. Once you have the green light, you can begin exploring yoga. 
A beneficial first step could be finding beginner-friendly classes specifically aimed at seniors. More and more yoga studios, including those in Thousand Oaks, Westlake Village, Oxnard, and Newbury Park, are offering classes catering to older adults. 
Alternatively, online resources provide a plethora of tutorials suitable for beginners. Hiring a personal yoga instructor can also be a great choice, as they can provide one-on-one attention and customize your yoga routine to suit your specific needs. 
Yoga is an incredibly adaptable practice. Traditional yoga asanas can be modified to accommodate your body's needs and capabilities. The use of props like straps, blocks, and bolsters can support you in different postures. There are even yoga forms, such as chair yoga, designed specifically to make yoga accessible for those with mobility issues.
Senior Helpers Thousand Oaks Helps Seniors Who Want to Age in Place To Thrive
Starting yoga in your sixties or later might seem daunting, but with the right approach and resources, it can become an enjoyable and beneficial part of your life. The benefits of yoga for seniors are immense, ranging from improved physical strength better cognitive function, and enhanced mental health. Remember, it's never too late to start practicing yoga. However, you need to start slow, listen to your body, and, most importantly, enjoy the process.
Residents of Thousand Oaks, Westlake Village, Oxnard, and Newbury Park, you are not alone in this journey. The team at Senior Helpers Thousand Oaks is here to help you with more information and support in your yoga journey. Reach out to us today.