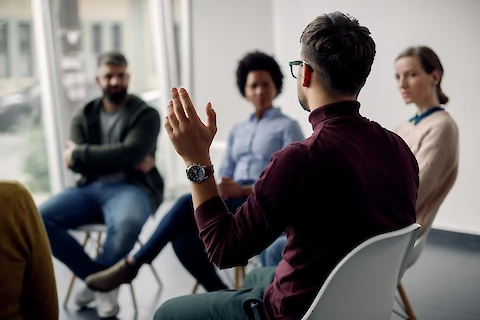 As a caregiver of a senior with dementia, you may often feel overwhelmed, isolated, and in need of support from those who understand your unique experiences. Knowing that you don't have to go through this journey alone is important. Finding a support network can make a significant difference in your caregiving experience. By connecting with others in similar situations, you can gain valuable insights, emotional support, and a sense of community. 
Let's explore the various ways to find your ideal support network!
Benefits of Joining Caregiver Support Networks
Joining a support network comes with numerous advantages that can greatly enhance your caregiving experience. You'll find emotional support, understanding, and encouragement from people who are going through similar challenges. This kind of validation and empathy can be incredibly helpful in mitigating feelings of isolation and stress.
Support networks also can provide access to valuable resources and information, such as practical tips, coping strategies, and the latest research on dementia care. By learning from others' experiences and sharing your own, you can continue to grow and evolve as a caregiver, ultimately benefiting both you and your loved one with dementia.
Finding Online Support Groups
Online forums and communities have become popular hubs for caregiver support. For example, the Alzheimer's Association's online community, ALZConnected, and Caregiver Action Network's Care Chat offer platforms for caregivers to find camaraderie, ask questions, and share advice. Facebook also hosts numerous groups focused on dementia caregiving, where members can easily participate in discussions and offer support.
Finding In-Person or Local Support Groups
Local support groups can be a great resource for those who prefer in-person interaction. Start by checking with your nearest Alzheimer's Association chapter, senior center, or community center for information on available groups. Local hospitals or healthcare providers may also offer caregiver support groups or be able to point you in the right direction.
When choosing a local support group, consider factors like meeting times, location, and group format. Reach out to the group facilitator or leader to discuss these elements and learn more about the group's focus. Similar to virtual groups, it's a good idea to attend a few meetings before committing to your membership to make sure it aligns with your needs and preferences.
Additional Caregiver Resources
Books, articles, and websites dedicated to caregiving can provide valuable insights and guidance. 
Local workshops or classes on dementia care can also be an excellent way to expand your knowledge and skills.
Respite care services can give you a much-needed break and ensure your loved one is well-cared for in your absence.
Count On Senior Helpers for Support
Remember that your well-being is a priority; you don't have to navigate this journey alone. Support networks are there to help you face the challenges of caregiving armed with strength and resilience. Caregivers with loved ones living in Thousand Oaks, Westlake Village, Oxnard, and Newbury Park can contact us at Senior Helpers Thousand Oaks to learn about our respite care services today.