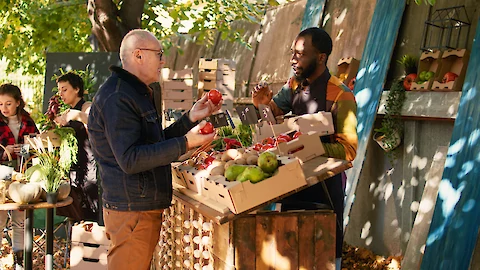 Spring is in the air, and it's the perfect time to spend quality time with our beloved senior relatives while enjoying the beautiful outdoors in Thousand Oaks, Westlake Village, Oxnard, and Newbury Park. Engaging in fun activities not only strengthens family bonds but also contributes to the well-being of our elderly loved ones. Here's some inspiration specifically tailored for seniors and their younger family members or caregivers!
Outdoor Activities
Ready to get outside in the sunshine? These places were made for spring visits! 
Gardens of the World in Thousand Oaks
Discover the beauty of Gardens of the World, showcasing various garden styles from around the globe. Seniors will appreciate the well-maintained pathways and serene atmosphere, making it an ideal place for leisurely strolls and engaging conversations.
Conejo Valley Botanic Garden in Thousand Oaks
Lose yourself in the picturesque Conejo Valley Botanic Garden, a 41-acre haven where gardening enthusiasts can learn about native plants and sustainable living. Encourage your senior relatives to share their insights on gardening, as the gentle terrain allows for comfortable exploration.
Oakbrook Regional Park in Thousand Oaks
Picnicking at Oakbrook Regional Park is another fantastic way to savor the spring sunshine. This family-friendly park features ample shaded picnic areas and easy walking paths for seniors to immerse themselves in the park's natural beauty.
Westlake Village Farmers Market
Bond with your senior relatives over fresh produce and delicious treats at the Westlake Village Farmers Market. Taking place every Sunday from 10 AM to 2 PM, this lively market offers an excellent opportunity to support local businesses while enjoying seasonal fruit, vegetables, and artisan products.
Indoor Activities
Are spring showers keeping you from venturing out? Get out of the rain and enjoy these two Ventura County hotspots! 
Thousand Oaks Library
Escape to the Thousand Oaks Library, a valuable local resource that offers a variety of engaging programs and services for seniors. From free computer classes to engaging talks on various subjects, there's always something happening at the library to keep seniors entertained and informed. Here are a couple of events you might want to check out: 
You can find out about more one-time, weekly, and monthly events on the library's calendar!
Oxnard Performing Arts Center
Treat your senior family members to an afternoon or evening of exceptional performing arts at the Oxnard Performing Arts Center. With a diverse line-up of performances ranging from classical music concerts and theatrical productions to weekly dance and music classes, there's something for everyone to enjoy; just keep their calendar bookmarked. Here are just a couple of upcoming events: 
We're Here to Support Ventura County Seniors! 
Engaging senior relatives in springtime activities strengthens family bonds and contributes to their overall well-being. We encourage you to make the most of the beautiful weather and these local destinations and centers to create unforgettable memories with your senior loved ones.
If you need professional caregiving support in Thousand Oaks, Westlake Village, Oxnard, or Newbury Park, don't hesitate to contact us at Senior Helpers Thousand Oaks. We're here to help you and your senior family members live life to the fullest, any time of the year!