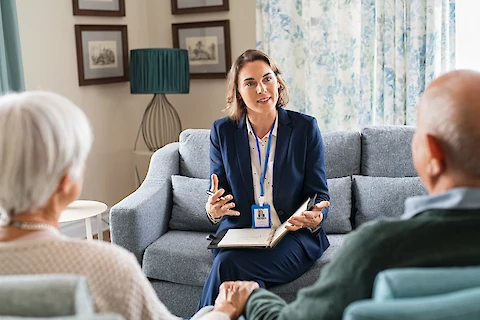 Where To Find Financial Assistance When Caring For An Elderly Relative
Caring for an elderly relative in San Diego County is time-consuming, stressful, and expensive. Families facing unforeseen expenses are often overwhelmed and need help knowing where to turn for help.
Senior Helpers of San Diego County has compiled a comprehensive guide exploring the various methods of financial assistance available to those taking care of an aging parent or relative.
Federal Government Programs
Various federal government programs provide financial assistance to caregivers outside of a nursing home setting, allowing family members to receive compensation as paid caregivers. Some of the programs include:
Home and Community-Based Services (HCBS) Waivers
Medicaid-funded HCBS waivers reimburse caregivers for personal care and chore services for elderly individuals who live in their primary residence or a family member's home. Personal care includes daily activities such as bathing, dressing, eating, and mobility. Payment varies by state but typically averages between $9.00 and $19.25 per hour for Medicaid-approved services.
Veterans Directed Home and Community-Based Services (VD-HCBS)
Military service members currently enrolled in the Veteran's Administration (VA) healthcare system can participate in the Veterans Directed Care program. Benefits include compensation for a family member that provides personal care services and home care assistance. The pay ranges between $8.44 and $20 per hour and is administered at the local level.
Private Insurance Programs
Some insurance companies may also provide financial compensation for personal in-home care services for eligible policyholders with the following types of coverage:
Life Insurance
Individuals carrying a life insurance policy with a value of more than $50,000 can elect to take a life settlement. The policy gets sold to a third party for a lump sum payment, and the policyholder can use this money to pay family members for in-home care.
Long Term Care
Those with long-term care coverage on their personal insurance policy can use the benefits to compensate family members for personal care services. The caregiver will need to pay taxes on the income and register for a business license with local and state authorities, which is a fairly simple process.
Charitable Organizations
Many charitable and non-profit organizations provide financial support and valuable resources to caregivers, including:
Local area agencies on aging, disease-specific organizations, and state-run programs may also offer caregiver assistance.
Contact Senior Helpers San Diego County To Learn More About Financial Assistance
According to AARP, "with the 65-plus population projected to grow from 56 million in 2020 to 73 million in 2030, the need for home health care will only increase."
Senior Helpers San Diego County offers compassionate in-home care. Our experienced staff can supplement the current caretaking schedule for a few hours a day or provide around-the-clock assistance.
Contact us if you need more information about receiving in-home care for a loved one in Carlsbad, Encinitas, or La Jolla. We can also provide additional resources for family members exploring the option of providing in-home care on their own.