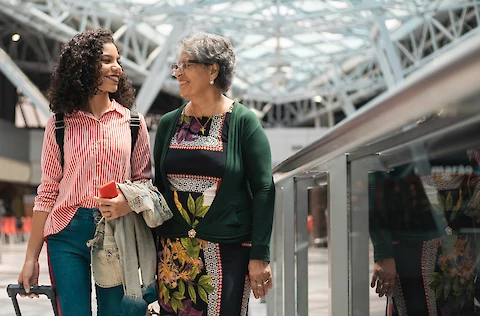 Going on trips with family is a fun experience at any age. However, traveling at an older age can present some unique challenges, particularly for people with early dementia. That's no reason someone has to skip out on vacation, though. Here's what to expect if you're flying with a relative with early dementia and how you can help everyone have a safe and exciting holiday.
1. Know What to Look For
Knowing what to look for in a senior with dementia can help in identifying what to do in certain situations. Some common signs of early dementia (via Healthline) can look like:
Mixed up or slurred speech.
Trouble communicating.
Problems with short-term memory.
Mood changes.
General confusion.
Problems with following directions or finishing tasks.
By understanding the signs, it's easier to prepare for issues that might come up as a result of dementia. This is not a complete list and seniors with dementia may not exhibit all of these symptoms at all times, but it can be a useful guideline going forward.
2. Communicate Clearly
On a caretaker or family member's end, communicating things clearly to a senior is one of the best things possible for helping them understand and be understood. Using precise and concise language means fewer opportunities for getting lost in a sentence. It's also much easier to remember small amounts of information. Repetition can also be useful, as repeating the same thing means a better chance of remembering it later.
3. Take Notes
Both a senior and their caretaker can take notes to help in recalling information. For a senior, this gives them access to a lifeline they can check if they aren't remembering what they were meaning to do. For caretakers, this gives you something to reference with a senior to help them to recall the initial conversation and when the notes were taken.
4. Stick Together
Getting lost in an unfamiliar place is troublesome even without dementia. For that reason, it's a good idea to stick together while flying or at the destination. Avoid getting turned around while waiting in a terminal and stay together in line on the way to board. Going together for things like food or the restroom is also a good idea.
5. Bridge Communication Gaps
At times, it may be necessary to step in and help bridge the gap between a senior and another person like a flight attendant. This does not mean interrupting and speaking for a senior at every opportunity. Instead, just pay attention to the conversations going on in the area, and if either party seems to be having trouble understanding the other, try to offer help.
Get Help From Senior Helpers San Diego County
While there's tons of fun to be had with a senior family member (especially on vacation), there are certainly some challenges that come with being a caretaker. There's no shame in asking for help yourself, which is why Senior Helpers San Diego County is here. We provide excellent in-home care to seniors all throughout the area, including places like Carlsbad, Encinitas, and La Jolla. Contact us today to learn more.