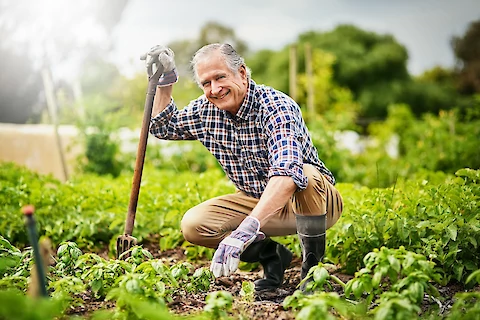 As the weather warms up and spring blooms, seniors throughout the area can look forward to getting outdoors and planting a garden. Gardening has long been seen as a therapeutic and leisure activity, but did you know that it can also be extremely beneficial for seniors? 
At Senior Helpers San Diego County, an in-home senior care company, we believe in the benefits of gardening for seniors and are here to help guide you on your way to a flourishing garden. Read on to learn more!
The Benefits of Gardening for Seniors
Gardening can be an excellent way for seniors to stay physically active, decrease stress, and stay connected to the community by providing food or flowers to friends or family. It is also a great way for seniors to build self-efficacy, which is the belief in one's own ability to succeed. Gardening can provide a sense of accomplishment and purpose.
Researching Garden Plans
Before beginning your gardening journey, there are a few things you should consider: how big is your garden area? What kind of plants, vegetables, or flowers would you like to grow? Are there any special considerations, such as plant diseases or pests, that you need to know about? Researching garden plans and plants can help you determine what will work best in your area. 
Studying and Preparing the Soil
Once you have researched the best plants for your region, you will need to make sure the soil is ready. Start by studying the soil's pH levels, adding organic matter or amendments such as peat moss or compost, and rotating or adding nutrients if necessary. The soil should be tilled or spaded for a few inches so that water can penetrate it.
Garden Maintenance
Gardening requires regular maintenance, including keeping the soil moist, weeding, and pruning. During the growing season, it is important to regularly check the garden for signs of pests or diseases and take any necessary steps to keep the plants healthy. 
Consider Pest Control
Pests can wreak havoc on a garden and should be taken seriously. There are a few steps you can take to ensure your plants remain healthy and pest-free. Make sure to use natural pesticides and insecticides, avoid regularly watering in the same spot, and practice good sanitation.
Senior Helpers Can Help Seniors Get Started With Gardening
Gardening is an excellent way for seniors to stay physically active, increase self-efficacy, and stay connected to the community. Researching and preparing the soil, maintaining the garden, and considering pest control are just a few of the steps that go into creating a successful spring garden. 
Here at Senior Helpers San Diego County, we are committed to helping seniors stay healthy, safe, and well cared for. As an experienced in-home senior care company, we can provide you with the information and support you need to create a thriving spring garden. Contact us today to learn more about our services in the Carlsbad, Encinitas, San Diego County, and La Jolla areas.