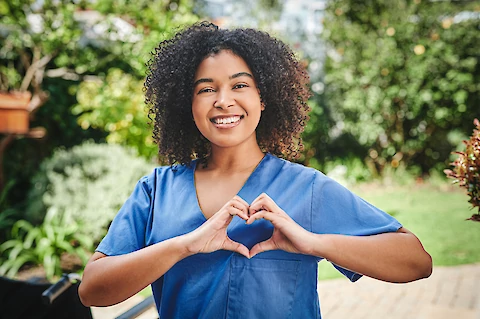 How to Show Appreciation for Elderly Relative's Hired Caregivers
As seniors age, it's often necessary to hire caregivers to provide in-home care. Caregivers are essential when it comes to helping elderly family members feel comfortable and safe as they age. It can be easy to take these hardworking professionals for granted day in and day out, but rewarding them with appreciation is important so that they understand how valuable they are to your senior's life. Here are a few ways that you can show your appreciation for your senior loved one's hired caregivers in Carlsbad, Encinitas, San Diego County, and La Jolla, courtesy of Senior Helpers San Diego County.
Ways to Show Appreciation To Caregivers 
There are a few different ways to show appreciation to caregivers, from verbal affirmations to small gifts and other acts of kindness. Here are a few ways for you to show your senior loved one's caregiver that you care:
Verbal Appreciation
The most powerful way you can appreciate the work of a caregiver is through verbal affirmation and gratitude—showing your thanks speaks volumes about how much their work means!  Expressions like "Thank you for all of your help" or "I really appreciate everything that you do" can go a long way towards showing your approval. 
Written Appreciation
If verbal appreciation feels awkward or you have difficulty finding the right words to thank your senior loved one's caregiver, writing a letter of support can be equally effective. It will also serve as a legacy to future caretakers and relatives that your loved one was deeply appreciated. As you write, don't forget to mention specific acts of kindness such as staying late when it's needed or going above and beyond during an emergency situation—these types of gestures go noticed and should be commended accordingly whenever possible.
Small Gifts 
Though gifts are not required for caregivers, they certainly make wonderful tokens of appreciation for all of the hard work that they do to take care of your relative! The type and size of the gift should depend on how long your caregiver has been with your relative and the relationship between them—letting them choose their own gift is always a safe option if you want to ensure its appropriateness. Gift cards are usually a popular choice for busy professionals who may look forward to treating themselves after hours!  
Senior Helpers Provides Premier San Diego Senior Care
At Senior Helpers San Diego County, we understand how important it is for elderly people in our community to receive the best care possible so they can live comfortably in their home environment. Show your appreciation today by thanking those who are providing daily services through verbal reaffirmation, written notes, or small token gifts. If you are looking for a dedicated, compassionate caregiver for your senior loved one, Senior Helpers San Diego County can help. Our caregivers provide premium care services that ensure your loved one is always taken care of and supported. Contact us today to learn more about the services we offer!