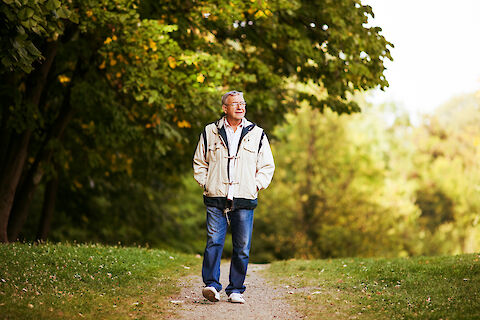 The San Diego County area is filled with incredible breathtaking for those who enjoy regular walks. Not only is daily walking beneficial to your physical health, but also to your mental health. That's why Senior Helpers San Diego County has put together this simple guide to creating a spring walking routine. 
This guide will help seniors in Carlsbad, Encinitas, and La Jolla to build a lasting routine through setting goals, picking an appropriate route, and other tips. So grab your walking shoes and let's get started!
Benefits of Daily Walking
Walking is a type of light exercise that has numerous benefits. It is a low-impact activity that can help seniors increase their mobility, strength, and tone. Walking can also help lower blood pressure and improve the health of the lungs, circulatory system, and heart. Not to mention, walking gives seniors a chance to get outside and enjoy some fresh air.
Setting A Walking Routine
Daily walking can be an enjoyable routine for seniors but can also seem overwhelming if you're starting from scratch. We suggest breaking up your routine into manageable pieces. Start by setting goals of how long and how often you'd like to walk. Beginning with shorter distances may be easier to keep up with, and when you feel like you can do more, increase the length of your route. You'll find that after a few days of walking, your routine will become more natural and enjoyable.
Outlining Goals
Start by setting achievable goals. Think about how often and how long you'd like to walk each day. Consider your current fitness level, age, and any personal preferences. Even setting a goal to walk around the block a few times a day is a great place to start.
Choosing a Route
When selecting a route, think about scenery and safety. Choose a route that is both pleasant and familiar. Local parks often have walking paths that are great for distance, views, and safety. 
Dress in Layers
Since the weather can be unpredictable in Encinitas, Carlsbad, and La Jolla, it's important to dress in layers when you go for a walk. Wearing layers will help you adjust to changing temperatures throughout the day and make sure you don't get too hot or cold. This could include wearing an undershirt, a loose T-shirt, and even a sweater or cardigan. If you start to get warm during your walk, you can remove the cardigan and still stay covered while getting your workout in.
Senior Helpers Can Help Kickstart Your Walking Routine
We hope this guide to creating a spring walking routine has been helpful. Walking is an excellent way to stay healthy and enjoy the great outdoors, and Senior Helpers of San Diego County is here to support seniors in the area with any in-home care needs. If you or a loved one are in need of assistance, contact us today. We are available to talk and provide personalized care plans tailored to meet your individual needs.