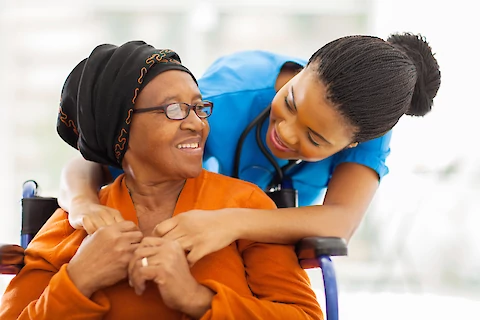 Caregivers and aides are an indispensable part of society. Therefore, it is essential to recognize their selfless acts. Some of our elderly loved ones require assistance in their daily lives to improve their quality of life, especially those with Alzheimer's, dementia, or Parkinson's disease.
The commitment caregivers in Sacramento-Placer County put into caring for seniors deserves recognition and appreciation. They help people, especially breadwinners, balance their work and care for their families, considering some senior citizens require constant monitoring. Senior Helpers Sacramento-Placer County recommends the following tips to recognize caregivers and aides:  
Say "Thank You" to Recognize Them
According to industry professionals, the most straightforward approach to expressing appreciation for a caregiver is the one they value the most. Hearing a sincere "thank you" is priceless. It makes the aides feel valued and important. You can express your appreciation in a card or letter with a message such as. "We are sincerely grateful for your service to our senior loved one. Thank you so much for everything you do." You can accompany the card with a gift or token.
Be There to Listen
Being emotionally supportive of caregivers is vital. Sometimes, they feel drained caring for seniors, especially those with underlying conditions. Listening to them eases the pressure they might be feeling. Take them out for coffee and inquire about their well-being to rejuvenate their resilience in caring for your senior.
Give Them Encouragement and Assistance
Encouraging caregivers to keep pushing is rejuvenating. It renews their strength to care for seniors selflessly. Consider giving your caregiver an unexpected day off to recognize them and for them to spend time with their own loved ones or explore their interests outside of caregiving. Help them prepare dinner one night a week, or assist in cleaning to reduce their workload. Doing so makes them feel appreciated and alleviates the additional energy they often expend.
Host a Surprise Celebration in Their Honor
Holding a surprise in one's honor is invaluable. You can create a list of your caregiver's significant loved ones and friends, then plan a surprise party. Order or make their favorite foods and play music and games to show appreciation and highlight their thoughtfulness.
Encourage Them to Prioritize Self-care
Encouraging caregivers to take a break and prioritize their health is important. Together, schedule a spa day to promote relaxation. You may even duplicate the spa experience at home using facemasks and aromatherapy oils. These exercises can reduce anxiety and blood pressure by relieving stress.
Start Exercising Together
You can motivate your caregiver to keep fit by exercising together. Involving them in some family wellness activities creates inclusivity, increasing their work resilience. You can adopt an exercise plan that is helpful for both the caregiver and their senior loved ones. It may consist of a basic regimen of walking or gentle stretches.
Bottom line
At Senior Helpers Sacramento-Placer County, we recognize the significance and necessity of caregivers at every family stage. Our caregivers improve the lives of persons over the age of 65 by helping them with their activities of daily living, companionship, and mental stimulation and ensuring seniors maintain a healthy and active lifestyle. In this regard, appreciating them for their contribution to seniors' lives is highly recommended. Contact us for any inquiries.