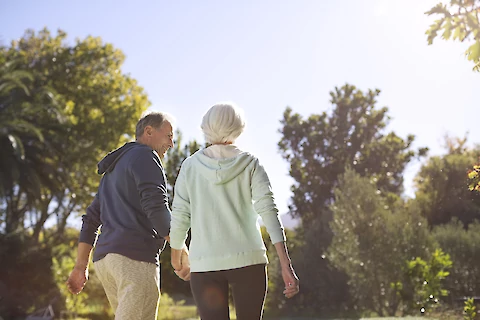 Walking is a great way for seniors to stay active and get some fresh air. Like other physical activities, though, it requires some considerations to do safely. As things cool down, cold mornings and evenings can dissuade many seniors from taking their walks. It doesn't have to be that way, though. Here are five tips for seniors in Sacramento-Placer County to help safely keep up with their daily walks.
Layering
If you're worried about getting too chilly on your walks, layering your clothes is a good option. Layering keeps you warm but gives you the option to take off or put on more clothes as needed. Keeping a spare jacket or shirt with you is the simplest strategy for it. It is an easy way to avoid the cold while out and about.
Pack Supplies for Walks
One fear that can come with walking in the autumn is how quickly it gets dark in the evening. Losing track of time could potentially mean getting lost in the dark. Avoid this by keeping a few supplies with you whenever you're out on a walk. A flashlight, a protein bar, and your cellphone are the basics that you should keep with you. As long as you've got these things, any senior should be able to make it home or call someone for help without much worry.
Walk With Others
Falling or losing track of their location are problems some seniors face while out on walks, especially when it's colder and darker outside. An easy way to avoid this is by taking someone else on a walk. Whether this is a caregiver, a family member, a friend, or even a dog, it all makes walking a bit safer. Having someone else there to help if a senior gets tired or hurt is good insurance, plus it makes the walk feel a bit less lonely.
Check the Weather and Time
A big problem for seniors out on walks is being blindsided by things like bad weather or an early sunset. The easiest way to avoid these things, then, is to check on them ahead of time. Whether it's the senior themselves or a caregiver, it's a good idea to check on the forecast and the approximate time for the sunset that day just to be safe.
Plot the Path
Spontaneity can be a great way to mix things up, but it's just as important to know what you're getting into before you get into it. For seniors out on walks, that would mean plotting out the path before heading out. Having a path in mind avoids the potential for getting lost and encountering unfamiliar terrain or obstacles. It also means that, if something like a fall does happen, other people will generally know where to find them.
Get Help From Senior Helpers Sacramento-Placer County
Looking after seniors can be a tricky but rewarding endeavor. Whether it's on walks, around the house, or anywhere in between, it requires going above and beyond for the important people in your life. If you've ever found yourself needing some help, though, Senior Helpers of Sacramento-Placer County can help. Our services are available in Sacramento, Roseville, Fair Oaks, Carmichael, Citrus Heights, Antelope, Rancho Cordova, McClellan, Elverta, Mather, North Highlands, Rio Linda, Loomis, and many surrounding areas, providing in-home elder care for seniors. Call us today to learn more about what we do.