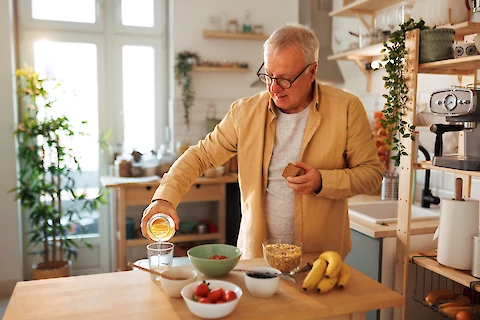 As a senior, it can be hard to make sure that your diet is balanced and healthy enough to combat hypertension. The good news is that there are a few easy recipes that anyone over 65 can master with a little help from Senior Helpers Sacramento-Placer County, an in-home senior care company. 
In this blog post, we'll discuss foods that help with hypertension and some recipes that can help keep your blood pressure in check. We'll also provide a few simple recipes for you to test out, from overnight oats with berries to quinoa salad with avocado and Greek yogurt parfait. So let's get started!
Foods That Help With Hypertension
When it comes to managing and preventing high blood pressure, there are certain foods you should be sure to incorporate into your diet. These foods are typically low in sodium and saturated fat and include items such as:
Lean proteins such as fish, chicken, and beans 
Whole grains such as oats, quinoa, and whole-wheat bread
Fruits and vegetables such as apples, oranges, spinach, and broccoli 
Low-fat dairy products such as Greek yogurt and low-fat cheese
Nuts and seeds like almonds and flaxseeds 
Healthy fats like olive oil and avocado 
Easy Recipes for Hypertension
There are many easy recipes that senior adults can incorporate into their weekly meal plans. Here are a few of our favorites!
Overnight Oats With Berries
Ingredients:
1/2 cup rolled oats 
1/2 cup of non-fat milk 
1/4 cup Greek yogurt 
1/4 cup fresh or frozen berries 
1 teaspoon of honey 
Instructions:
In a bowl, mix the oats, milk, yogurt, and honey. 
Stir until all ingredients are combined. 
Cover the bowl and place it in the fridge overnight. 
In the morning, top with fresh or frozen berries. Enjoy!
Quinoa Salad With Avocado
Ingredients:
2 cups cooked quinoa 
2 cups baby spinach, roughly chopped 
1/2 cup cherry tomatoes, halved 
1/2 cup cooked corn 
1/2 cup diced red onion 
1/2 cup diced cucumber 
1/4 cup fresh cilantro
1 avocado, diced
2 tablespoons olive oil 
1 tablespoon fresh lime juice 
Salt and pepper to taste
Instructions:
In a large bowl, add the quinoa, spinach, tomatoes, corn, red onion, cucumber, cilantro, and avocado. 
Drizzle the olive oil and lime juice over the top and gently toss to combine. 
Season with salt and pepper, to taste. 
Serve chilled or at room temperature. Enjoy!
Greek Yogurt Parfait
Ingredients:
1 cup non-fat Greek yogurt 
1/2 cup granola 
1/2 cup fresh or frozen berries 
1 tablespoon honey 
Instructions:
In a small bowl, combine the yogurt, granola, and honey. 
Layer the yogurt mixture and berries in a glass jar. 
Drizzle the honey over the top. 
Enjoy!
Senior Helpers Provides Assistance With Meal Prep 
Managing hypertension doesn't have to be difficult. With the right diet and a few easy recipes, anyone over 65 can help keep their blood pressure in check. For more help with making sure your diet and lifestyle are keeping you healthy, contact Senior Helpers Sacramento-Placer County for in-home senior care in the Sacramento, Roseville, Fair Oaks, Carmichael, Citrus Heights, Antelope, Rancho Cordova, McClellan, Elverta, Mather, North Highlands, Rio Linda, and Loomis areas.