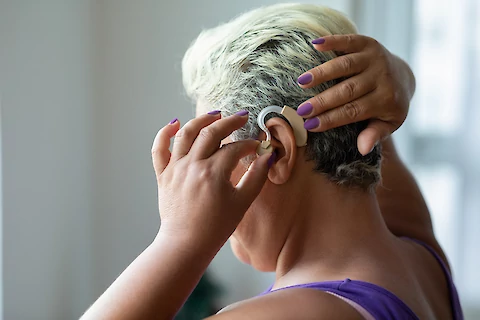 While hearing impairment is a common issue associated with getting older, it can also be a source of social isolation, depression, and anxiety for seniors. However, with the right guidance and support system, senior loved ones can not only cope with hearing difficulties but live a full life with them. 
Treatment Options
Hearing Aids
Hearing aids are a common solution for treating hearing impairment in seniors. These devices are available in various styles and sizes, allowing elderly loved ones to choose the device that best fits their lifestyle and needs. Hearing aids amplify sound and reduce background noise levels so that you can hear more clearly. 
Assistive Listening Devices 
If hearing aids are not an option or they do not provide sufficient relief, assistive listening devices can be helpful. Assistive listening devices work by amplifying sounds directly into the ear canal via headphones or into the senior's pocket via receivers with output cables. This provides direct amplification of targeted sound without any feedback or background noise.
Cochlear Implants 
Cochlear implants are medical devices used for those who have severe-to-profound hearing loss due to nerve damage which cannot be helped with traditional hearing instruments like hearing aids. The implants contain electrodes that directly stimulate auditory nerves within the inner ear when turned on, allowing improved sound recognition and understanding.   
Surgery 
In cases where age-related change is causing a blockage in a senior loved one's Eustachian tubes (the passageway between the middle ear and throat), surgery might be recommended. These surgeries reopen these passageways, helping natural drainage return.
How to Cope with Hearing Impairment
For senior loved ones living with hearing impairment, there are various communication strategies they can use to cope and improve their quality of life. For example, seniors should seek out quieter places when possible and sit in the front row during events such as lectures or musical performances. If conversations become challenging, the senior's friends and family need to communicate more slowly and clearly with them.  
A strong and active social network can also help lessen the senior's feelings of loneliness or depression associated with hearing impairment. Caregivers, trained specifically in the needs of impaired senior adults, may offer additional support and help them obtain assistive devices or connect them with a doctor where appropriate. 
Senior Helpers Offers Personalized, In-Home Care
Living with hearing impairment can be difficult for seniors. However, with the right communication strategies, treatment, and support, seniors can maintain a high quality of life well into their golden years. If you or an elderly loved one is experiencing hearing loss, contact Senior Helpers Sacramento-Placer County today. Our trained and compassionate caregivers are uniquely equipped to guide seniors in Sacramento, Roseville, Fair Oaks, Carmichael, Citrus Heights, Antelope, Rancho Cordova, McClellan, Elverta, Mather, North Highlands, Rio Linda, and Loomis through this natural phase of life.