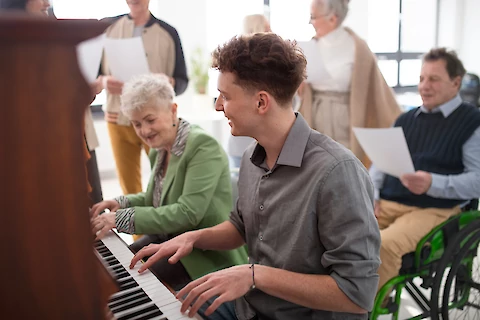 December is National Giving Month and offers one an opportunity to share happy times with senior adults in their local community. During the season, younger adults may have extra time on their hands, unlike seniors with limited resources. Time is the most valuable asset in supporting older adults in senior-based organizations, recreation centers, or senior housing facilities who may be experiencing isolation or loneliness. The organizations would welcome your volunteer time during the holiday season. Below is a list of ways you can volunteer in your local community.
1.  Make Companion Visits
Seniors may need a person to interact and engage with, especially if they are experiencing a family member loss or seasonal depression. Volunteering as a companion significantly affects the health and well-being of seniors. Younger adults can volunteer their time and spend quality time with seniors by playing games that jog their memory, attending coffee chats and fitness games, or organizing holiday parties at the centers.  
2.  Assist With Food Preparation
Some senior housing facilities may need help with cooking, cleaning dishes, and preparation of weekly meals. Adults can volunteer to help so that seniors can access nutritious and well-cooked food during the festivities. 
3.  Run Errands
As the festivities approach, the senior-based housing facilities may feel overwhelmed by long to-do lists. Adults can lend a hand to senior-oriented organizations by simplifying tasks for them. Some adult volunteers may enjoy light house cleaning such as organizing cluttered closets, dusting, and folding laundry at the center.
4.  Cheer Them Up With Homemade Gifts
Sending homemade cards to seniors is one way of letting them know you care. This goes a long way to uplift their festive spirits during the month. Handwritten words of affirmation can help seniors experiencing loneliness know that they are loved members of the local community. 
5.  Decorate for the December Holidays
Decorating senior recreation centers for the holiday season is a good mood booster. Nothing feels more festive than seeing decorations put up for the holidays. For most seniors, lifting heavy décor items or climbing ladders to decorate the Christmas tree can be troublesome. Younger adults can volunteer to decorate at the local senior recreation center on their behalf. 
6.  Be a Volunteer Caregiver
The recreation centers may need help with everyday activities such as grooming, walking seniors, or feeding them. Seniors may also need assistance in taking their medication or reminders on when to take them. 
7.  Volunteer to Drive
Transportation to and from doctor's appointments can be lifesaving for seniors who can no longer drive themselves. Adults can volunteer to take them to doctor's visits or for physical therapy. You can also volunteer to drop off fresh farm produce at the centers or pick up donations from distribution centers. 
Contact Senior Helpers Sacramento-Placer Today 
The holidays are an excellent time for families to consider our in-home caregiving services for seniors. Senior Helpers Sacramento-Placer is committed to providing professional caregiver services to your loved one. If you live in Sacramento, Roseville, Fair Oaks, Carmichael, Citrus Heights, Antelope, Rancho Cordova, McClellan, Elverta, Mather, North Highlands, Rio Linda, or Loomis, contact us today for more details about our services.