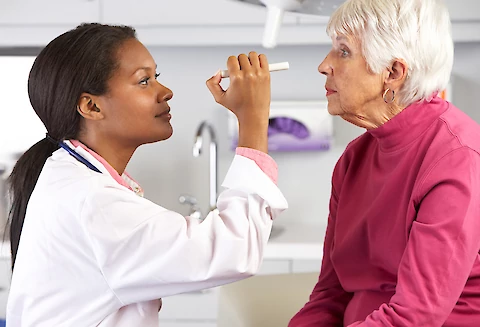 5 Ways Seniors Can Protect Their Eyes From Strain While Enjoying Hobbies
With age, your focus may shift toward easier and less demanding activities. You spend less time focusing on tasks requiring greater concentration, like reading. Additionally, vision decline occurs over time for everyone. Many people experience loss of sharpness, blurry vision, sensitivity to light and glare, difficulty seeing close objects, and difficulty distinguishing colors. These changes in their eyes occur due to normal aging processes and not only due to eye disease.
They can affect your daily activities and make it challenging to enjoy hobbies like reading, watching movies, and playing sports. Fortunately, seniors in Sacramento can protect their eyes while enjoying these hobbies.
1. Take Breaks 
Eye strain happens when you have been staring at a screen or something else for extended periods like long hours of computer use. Your eyes get tired and strained and tend to become irritated. If you play any sport where the eyes focus on a screen or object, take breaks frequently to move around and stretch your muscles. Use computer glasses with anti-glare lenses if possible.
2. Use Protective Eyewear
Wearing eye protection while participating in hobbies is imperative. You should wear protective eyewear if you use equipment like a baseball bat, hockey stick, golf club, or fishing rod. In addition, you may want to consider wearing a mask if you plan to do activities involving lots of debris, dirt, or chemicals.
3. Get a Checkup Regularly
Seniors who experience frequent headaches or other visual issues should visit their primary care physician for a physical examination to rule out conditions that could cause these symptoms. If your doctor detects any changes in your vision, they may refer you to an eye specialist.
Eye examinations detect potential problems before they become serious, so schedule annual visits to your optometrist or ophthalmologist. Tell your eye doctor about any glasses or contact lenses you've been wearing recently. Your doctor may recommend replacement glasses or contacts to ensure that you continue to have clear vision.
4. Take Medications as Directed
Your doctor may prescribe medications for some ailments, including dry eyes, high blood pressure, diabetes, and arthritis. These medications may improve your vision and relieve the symptoms you've been experiencing. However, ensure you don't stop taking any existing medication without discussing it with your doctor. Suddenly stopping certain medications can produce side effects. 
5. Drink Plenty of Water
Constantly hydrating helps keep your eyes relaxed and moist. If you're dehydrated, your body may produce fewer tears, which can lead to dryness and irritation of the cornea, the clear front surface of the eyeball.
Maintain Healthy Eyes for Seniors
Senior Helpers Sacramento Placer gives senior citizens ways to care for their eyes while reducing eye strain. Our services reach Sacramento, Roseville, Fair Oaks, Carmichael, Citrus Heights, Antelope, Rancho Cordova, McClellan, Elverta, Mather, North Highlands, Rio Linda, and Loomis.
We provide information about eye care and protection to help you protect your eyes while engaging in hobbies or activities. Contact us at 916-701-8400 to schedule Wellness Watch appointments for you or your elderly loved one from the comfort of your home.