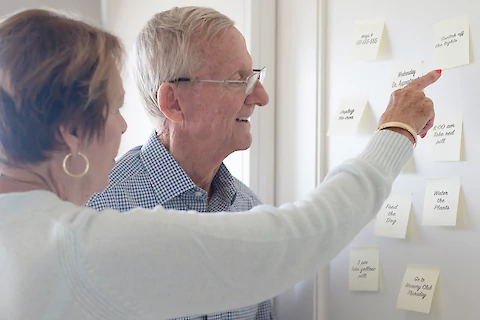 Caring for a loved one with Alzheimer's or dementia can be an incredibly challenging and emotional journey. As these conditions progress, it's essential to understand how to provide the best possible care while navigating the unique obstacles they present. With a high level of support, seniors with Alzheimer's and dementia can often stay at home longer. 
Understand Alzheimer's and Dementia
Alzheimer's and dementia are neurological conditions affecting memory, thinking, behavior, and emotions. Alzheimer's is the most common form of dementia, accounting for most cases. Early diagnosis and intervention are crucial in managing symptoms and improving the quality of life for those affected.
Follow Day-to-Day Tasks
Establishing a daily routine can provide a sense of structure and familiarity for your loved one with Alzheimer's or dementia. Encourage their independence by involving them in activities they enjoy and can safely participate in. Assist with personal care and grooming. Take into account their preferences and abilities. Plan nutritious meals and ensure they take their medications as prescribed.
Manage Changes in Behavior
Changes in behavior, such as agitation, confusion, and wandering, are common in individuals with Alzheimer's or dementia. Identifying triggers for these behaviors and applying calming strategies can help manage such situations. Addressing sleep disturbances and utilizing memory aids can also be beneficial in maintaining a calm and comfortable environment for your loved one.
Create a Safe Environment at Home
A safe and supportive home environment is crucial for those with Alzheimer's or dementia. Assess your home for potential hazards and make necessary modifications to reduce the risk of falls and accidents. Ensure proper supervision and consider using technology, such as cameras or tracking devices, to monitor your loved one's safety.
Create Communication Strategies
Effective communication is integral to caring for someone with Alzheimer's or dementia. Adapt your communication techniques to meet their needs by using simple language and visual aids and maintaining patience and empathy. Encourage nonverbal communication, such as gestures and facial expressions, to foster understanding and connection.
Focus on Self-Care for Caregivers
Caring for a loved one with Alzheimer's or dementia can affect your emotional and physical well-being. Recognize the signs of caregiver stress and burnout, and seek support from friends, family, and support groups. Balance your personal and caregiving responsibilities. Make your self-care a priority to ensure you can continue providing quality care for your loved one.
Get Help Caring for Loved Ones with Alzheimer's and Dementia
Caring for a loved one with Alzheimer's or dementia presents many challenges. With the proper guidance and support, you can provide the best possible care and enhance their quality of life. By implementing the tips and strategies discussed in this guide, you can navigate the complexities of caregiving with greater confidence and ease.
If you're in the Elverta, Mather, North Highlands, Rio Linda, or Loomis area, don't hesitate to contact Senior Helpers Sacramento-Placer County. Our team of compassionate and skilled caregivers can help you provide the best care for your loved one with Alzheimer's or dementia. Contact us today to learn more about our services and how we can support you and your loved one on this journey.