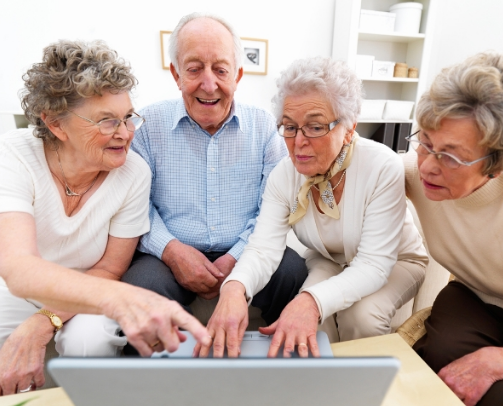 At Senior Helpers, we have a lot of experience working with seniors and we have found that they rarely like change. So When it comes to your aging parents, or even your significant other, its no surprise that they can be reluctant to admit that their care needs are changing. We want to help you get the conversation started with your aging loved one about their health and mental well-being sooner rather than later. Throughout the entire process, we have found that one of the most important aspects is making sure that your loved one remains actively involved in each step of the decision making.
Look for an Opening
You could use an example from an article that you've read, or a news story that you've recently seen to bring up the topic of future care:
"I just read an article about gathering all your important papers together. Can you show me where yours are some time and what you'd like us to do just in case?"
"I'm getting to the point where I want to start estate planning, do you have any advice?"
"As time goes on, do you think you want to stay in this house?"
"I remember you mentioned that your eyes have been bugging you. Are you having problems reading or driving at all?"
Review Finances
Money is a sensitive topic for almost anyone. But it is a subject that is at the root of the future decisions you will make with your loved one about their health care and other expenses. The first step is to simply ask them:
"I've been doing some research about my future, and an considering a long term care insurance policy. Do you have one?"
Many people don't realize they can use their life insurance policy as a source of cash. Many seniors that own their homes don't realize the benefits of reverse mortgages either, so you could even ask:
"Mom/Dad, did you know that this house that you own can help give you access to healthcare services while you remain comfortable in the house? I heard you don't even have to make any payments a month, it's called a reverse mortgage. Isn't that neat?"
Address the Concerns of Your Loved One
Whether they are worried about the cost of care, or the quality of caregivers, you can alleviate their concerns by keeping them as informed as possible each step of the way.
"I know you're worried about the cost of healthcare, so let's get on the computer and explore your options together."
"It can be uncomfortable having a stranger come into your home. However, we can interview caregivers together to see who would be the best fit for you."
Vocalize Your Concerns
We are only human, let's be honest. If you work or have any sort of responsibilities outside of caring for your loved one you already know that you can't be with them 24 hours a day. You have every right to express your concern for their well-being. You could easily start the conversation by saying:
"It would give me peace of mind knowing that you have extra help on certain days when I can't come by the house to see you."
"I don't feel comfortable leaving you alone for too long during the day, and it would really help me out being able to run errands knowing that you are safe."
"I know you love living in your home, but I'm worried about your safety while I'm not around. Let's get you some extra help so you can remain in your home as long as possible."
Here at Senior Helpers, one of our core values is open and effective communication. We understand how hard it can be to broach the topic of senior care with your loved one.If you want to find out or know more about our care services, or need help getting the conversation started with your loved one, speak with a Senior Helpers care expert about creating a customized care plan for your loved one. We are here to ensure a better quality life for your loved one and your family, please contact us today.

Senior Helpers – Sacramento/Placer provides compassionate caregivers to help our local seniors with day-to-day tasks such as housekeeping, meal prep/planning, and transportation as well as providing assistance with bathing, dressing, medication reminders and more. Our mission is to improve the life of seniors and help relieve the burden on their families. If your loved one lives in Sacramento or the surrounding areas (Roseville/Rocklin, Folsom, Rancho Cordova, Elk Grove) and you would like more information, please call us at 916-671-5777 or click the Contact Us link at the top of this page.