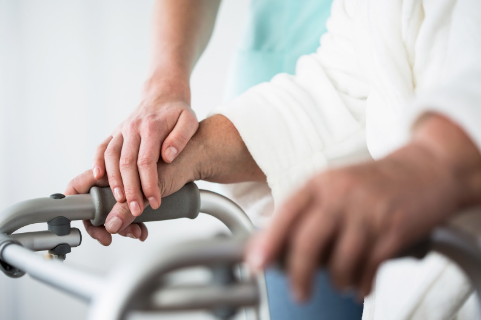 Receiving the diagnosis of Parkinson's Disease can be scary, and confusing. It is important to not only prepare and educate yourself for the road ahead. If your loved one has recently been diagnosed with PD and you are committing to caregiving for them, it is important to remember to take care of your mental and physical well-being.
According to the Parkinson's Foundation, Parkinson's is a neurodegenerative disease that predominantly affects the dopamine-producing neurons in a specific area of the brain. The symptoms of Parkinson's usually develop slowly over years allowing an individual to live with the disease for years progressively increasing the levels of care that they receive meanwhile still maintaining an individual lifestyle. Some of these symptoms range from tremors, the slowness of movements, and gait and balance problems.There are a number of different ways our professionally trained caregivers can assist your loved one with Parkinson's Disease:
Supervision of gait to prevent falls

Housekeeping to eliminate potentially dangerous obstacles

Special meal preparation when swallowing is difficult

Help with eating throughout tremor episodes

Help with bathing and toileting

Companionship care to fight depression

Offer fluids for thirst due to the Parkinson's medications
Caregiving for someone with Parkinson's Disease can be a challenging job, especially as the disease progresses. Senior Helpers' expertise in providing care for those who live with Parkinson's disease comes from in-depth training on how to care for seniors with a variety of age-related ailments. Parkinson's Disease is a unique challenge for any caregiver, that is why Senior Helpers has invested so extensively in the training of their caregivers. At Senior Helpers we want our clients with Parkinson's Disease to live as comfortably and independently as possible given their condition.
You might be wondering where to begin? You can start by requesting our free copy of our Parkinson's Care Program DVD and Wheel by following this link! These materials were created with experts to provide you and your family with more information on Parkinson's disease and what our caregivers can do today to make your loved ones who live with PD more comfortable and independent.
There are also profesional helplines available such as the National Parkinson Foundation helpline that is staffed with nursing and social specialties to support you and your loved ones. You can reach them anytime at 1.800.4PD.INFO (1-800-473-4636).
Lastly, reach out to your PD centers and community organizations. You can search for the closest center to you, or call us at your local Senior Helpers for more information. You are never alone when it comes to care and comfort for those who live with Parkinson's Disease.
Senior Helpers – Sacramento/Placer provides compassionate caregivers to help our local seniors with day-to-day tasks such as housekeeping, meal prep/planning, and transportation as well as providing assistance with bathing, dressing, medication reminders and more. Our mission is to improve the life of seniors and help relieve the burden on their families. If your loved one lives in Sacramento or the surrounding areas (Roseville/Rocklin, Folsom, Rancho Cordova, Elk Grove) and you would like more information, please call us at 916-671-5777 or Contact Us.
DISCLAIMER: This information is not intended to diagnose health problems or to take the place of medical advice or care you receive from your physician or other healthcare provider. Always consult your healthcare provider about your medications, symptoms, and health problems.