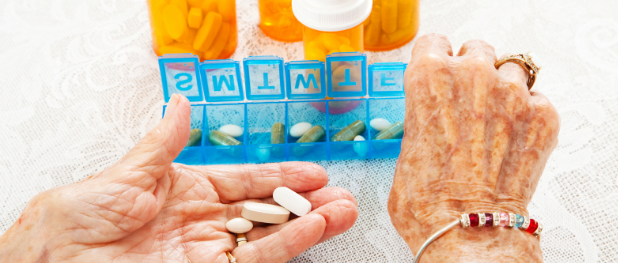 Senior Helpers of Sacramento-Placer has the ability to implement a comprehensive at-home plan for helping you or your loved one manage a variety of chronic diseases and conditions. It is important to remember that when facing the following diseases and conditions that you are not alone, and we want to help you ease the burden. Our Care Manager works with your family and our service team to create a customized care plan for your loved one. Depending on his or her needs we can provide assistance with daily living activities and so much more. 
The Senior Helpers case management program calls for the ongoing review of the care plan throughout the care regimen. This ensures that the changing needs of your senior parent and family are met. Our caregivers can provide one-on-one assistance with:
ALS

Amyotrophic Lateral Sclerosis, also known as "Lou Gehrig's Disease". This is a progressive disease that attacks the nerve cells that control your voluntary movement.

Alzheimer's Disease

Alzheimer's Disease is one of the most common types of dementia, where an individual experiences a progressive decline in their ability to remember things.

Client supervision to prevent wandering

Medication and toileting reminders

Incontinence care to prevent skin irritations and infection

Meal preparation to maintain nutrition and prevent accidents

Transportation to errands and medical appointments

Respite for family members

Assistance with engaging or calming activities

Arthritis

Arthritis causes pain and stiffness in and around the affected joint or joints. Other types can also affect your immune system and internal organs of the body. In-home senior care services can help your loved one with arthritis

Compliance with exercise activities

Assistance with painful tasks (driving, bathing, dressing, writing, etc.)

Meal preparation and diet modification to prevent weight gain

Applying ice packs or heating pads to relieve localized pain

Frequent repositioning to reduce pain and stiffness

Proper transferring techniques to prevent further damage

Cancer

Cancer is the name for a collection of related diseases. In all types of cancer, however, abnormal cells divide out of control and have the ability to invade into other tissues through the blood and lymph systems.

Management of daily activities at onset of fatigue to conserve energy

Meal preparation to increase energy levels through proper nutrition

Assistance with exercise regimen to reduce depression and anxiety while increasing energy

Relaxation and breathing exercises to reduce stress levels

Verbal communication and emotional support

Transportation to and from treatments

Dementia

Dementia is not a specific disease, but an overall term to describe a variety of symptoms. Dementia is the general decline of brain function with symptoms such as judgment and memory loss.

Diabetes

Diabetes is a disease affects the way your body processes food into energy. It requires a significant amount of awareness due to the fact that if it is not managed, it can lead to a significant amount of negative long-term effects i.e. blindness, kidney failure, and nerve damage.

Preparation of diabetic-friendly meals

Monitoring condition of skin and lower extremities to prevent skin breakdown, ulcers, and related injuries

Ensuring proper oral hygiene to prevent gum disease (common in diabetics)

Heart Disease

Heart disease, also known as heart and blood vessel disease, is when there is a buildup of plaque in the heart's arteries. For seniors, one of the most common types of heart conditions they experience is congestive heart failure (CHF). This is when the heart can't pump out enough blood to meet the needs of their body. Meanwhile, other forms of heart disease can eventually lead to CHF.

Meal preparation, transportation, and activities of daily living (ambulation, bathing, continence, dressing, eating, transferring, and toileting)

Ensuring compliance with dietary requirements

Ensuring compliance with prescribed exercise activities

Multiple Sclerosis

Multiple Sclerosis (MS) is a chronic nervous system disease with unpredictable symptoms that come and go. Through this immune-mediated process, there is an abnormal response or attack of the body's immune system directed at healthy tissue in the Central Nervous System (CNS).

Mobility assistance and management of daily activities (transferring, shower and toilet assistance, meal preparation, dressing, and light housekeeping)

Transportation to appointments

Social stimulation to combat depression

Osteoporosis

Osteoporosis is a bone disease that transpires when the body loses too much bone, makes too little bone, or both. So essentially, the bones are not nearly as strong as they should be. When it comes to seniors, this is a very serious thing.

Meal preparation, transportation and activities of daily living (ambulation, bathing, continence, dressing, eating, transferring, and toileting)

Gait supervision and assistance to prevent falls

Assistance with weight-bearing exercises to increase bone mineral density

Parkinson's Disease

Parkinson's Disease (PD) is a neurodegenerative disease that predominantly affects the dopamine-producing neurons in a specific area of the brain.

Gait supervision to prevent falls

Light housekeeping to remove potentially dangerous obstacles

Assistance with feeding during tremor episodes

Specialized meal preparation when swallowing is difficult

Offering fluids for thirst relief due to Parkinson's medications

Assistance with bathing, transferring into tub or shower

Social stimulation to combat depression

Stroke

A stroke is an attack on the brain that can happen to anyone at any time. It occurs when blood flow to an area of the brain is cut off, therefore the brain cells are cut off from oxygen and begin to die.

Meal preparation, transportation, and activities of daily living (ambulation, bathing, continence, dressing, eating, transferring, and toileting)

Assistance with post-stroke treatment plan
To learn more about how Senior Helpers can help manage your senior loved one's disease and create a better quality of life, please contact us today.
Senior Helpers – Sacramento/Placer provides compassionate caregivers to help our local seniors with day-to-day tasks such as housekeeping, meal prep/planning, and transportation as well as providing assistance with bathing, dressing, medication reminders and more. Our mission is to improve the life of seniors and help relieve the burden on their families. If your loved one lives in Sacramento or the surrounding areas (Roseville/Rocklin, Folsom, Rancho Cordova, Elk Grove) and you would like more information, please call us at 916-671-5777 or click the Contact Us link at the top of this page.