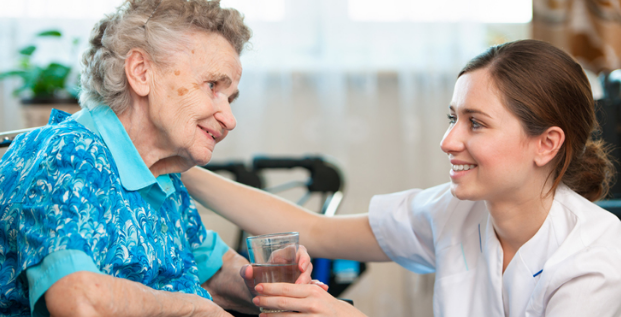 Many people wonder about the pros and cons of in-home care services and assisted living. It is important to understand what each service does and doesn't provide. 
Assisted Living
Assisted living, or institutional care, is often a community where many seniors live. These communities can offer quite a wide range of care options, from highly independent seniors, to those with a more immediate need for care. 
Pros:
Affordable way to get 24/7 care and supervision.

Senior has more opportunity for social interaction with other seniors.

Family has one point of contact for their seniors care.

Family is able to focus on their relationship with the senior rather than on their care needs.
Cons:
There will be a lack of one-on-one care that you would otherwise get at home, changes in staff are more frequent.

Depending on the staff, quality of care can vary.

If one-on-one care is needed, paying out of pocket for a private aide may become necessary.

Seniors can get kicked out of the facility for a variety of reasons, with little notice.

Seniors may not like living in a senior community environment.
In-Home Care Services
What are in-home care services? In-home care services are when a caregiver is hired to come into the home to help with ADLs (activities of daily living). This allows you or your loved one to continue living in the safety and comfort of their own home. Simultaneously, this helps them maintain two very important things: their dignity and independence.  
Pros:
Seniors get access to one-on-one care that is tailored to meet their needs and preferences.

Seniors can stay comfortably in their home or a relative's home.

The family has a greater say in who cares for their loved one.

Costs are lower depending on how many hours of care are required and the level of skill provided by the caregiver.

There is more flexibility in the care arrangements that range from lower costs, increased social interaction, type of care provided, etc.
Cons:
24/7 care could be more expensive.
Care schedules may need to be adjusted more often.
The home might need safety modifications for wheelchair accessibility.
There may be fewer opportunities for social interaction with a variety of people.
If you are noticing any red flags in you or your loved one, there is no better time to start talking about care than the present. This is a hard topic to approach, so it's always a good idea to have some conversation starters handy to help put aside the awkwardness and focus on your loved one's well-being.  
Are you still up on the air on which type of care is most appropriate for your loved one? Let us help - Call us Today.

Senior Helpers – Sacramento/Placer provides compassionate caregivers to help our local seniors with day-to-day tasks such as housekeeping, meal prep/planning, and transportation as well as providing assistance with bathing, dressing, medication reminders and more. Our mission is to improve the life of seniors and help relieve the burden on their families. If your loved one lives in Sacramento or the surrounding areas (Roseville/Rocklin, Folsom, Rancho Cordova, Elk Grove) and you would like more information, please call us at 916-671-5777 or click the Contact Us link at the top of this page.