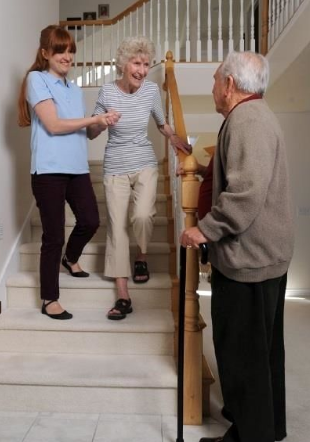 Falling is one of the biggest fears you might have when it comes to your aging loved one. Do you lay awake at night worrying about your loved one falling? Give yourself peace of mind and make sure your loved ones home is as fall proof as possible. For example, the bathroom is one of the prime target areas where falls occur. You can't eliminate all of the ways your loved one might fall, but you can still do some things that will lower the risk. Here are a few ways you can get started:
Clear the clutter from you or your loved ones home.

Repair or remove tripping hazards.

Install grab bars and handrails in appropriate places.

Make sure all the lights in the house are working correctly. Install lights by the stairs so they are properly illuminated.

Stairs can be particularly risky. If it makes sense, consider moving into a single-story home.  
Are you concerned about the safety of your loved one in their own home? We at Senior Helpers are concerned too. Call us today for a free home safety inspection.

Senior Helpers – Sacramento/Placer provides compassionate caregivers to help our local seniors with day-to-day tasks such as housekeeping, meal prep/planning, and transportation as well as providing assistance with bathing, dressing, medication reminders and more. Our mission is to improve the life of seniors and help relieve the burden on their families. If your loved one lives in Sacramento or the surrounding areas (Roseville/Rocklin, Folsom, Rancho Cordova, Elk Grove) and you would like more information, please call us at 916-671-5777 or click the Contact Us link at the top of this page.