Contrary to popular belief, getting older no longer means an automatic ticket to a nursing home. With an increase in a senior citizens' life expectancy, there is in turn a rise in care service offerings. Do you know what the best part about elderly care services is? It means that your loved ones get to remain in the comfort of their homes, while getting the support and care that they need to maintain their independence for as long as possible.
We know that it is an overwhelming process to get elderly care services and we want to relieve some of your stress by answering your questions.
What is Elderly Care Service?
There are so many ways to describe elderly care services, but it is exactly what it sounds like – care for the elderly. Whether called in-home care, senior services, or home aids, they are all in the same family of elderly care. They all share one similar goal, and that is to give your loved one the support and care that they need while maintaining their dignity and independence. In turn, this will also give peace of mind to the people who care for and love them.
At Senior Helpers, these elderly care services are what we specialize in. Our mission is ensuring a better quality of life for our elderly clients and their families by providing quality and affordable care.
Senior Helpers: An Elderly Care Service Provider
So, why was Senior Helpers founded?? Tony Bonacuse, with the help of Peter Ross, had their own first-hand experience in caring for their respective family members. They recognized the gap that wasn't being filled by companies offering elderly services in the market, so this led to the launch of Senior Helpers.
The process here at Senior Helpers is a simple one for clients and their families. The first step is setting up a complimentary assessment and establishing a plan of care. Then, we match up the client with a caregiver that is most appropriate and matches well with a client's needs and personality.
Here at Senior Helpers we provide a variety of types of senior home care ranging from:
Companion Care: The basic level of care in which we provide companionship, meal preparation, light housekeeping, medication reminders, and other general assistance.
Personal Care: This involves assistance with the Activities of Daily Living (ADLs), like bathing, dressing, grooming, toileting, and ambulation assistance.
Live-In Care: 24-hour care, round the clock care.
Peace of Mind Visits: Check-ins to help with day to day activities to give families "peace of mind"
Transition assistance: For clients coming back home after surgery or injury and needing recovery help.
Respite Care: Helping families out for brief periods of time when they are not able to be there.
Our goal is to help our clients remain independent at home for as long as possible. However, we understand that most people do not have unlimited funds to pay for care. For example, Senior Helpers works with most long-term insurance companies. These policies can protect your loved one's assets and cover much of the costs depending on the policy's terms. There are also state and local programs that can offer limited care for seniors that meet certain criteria. Ultimately, there are several options available to help pay for long-term home care and lighten your family's financial burden.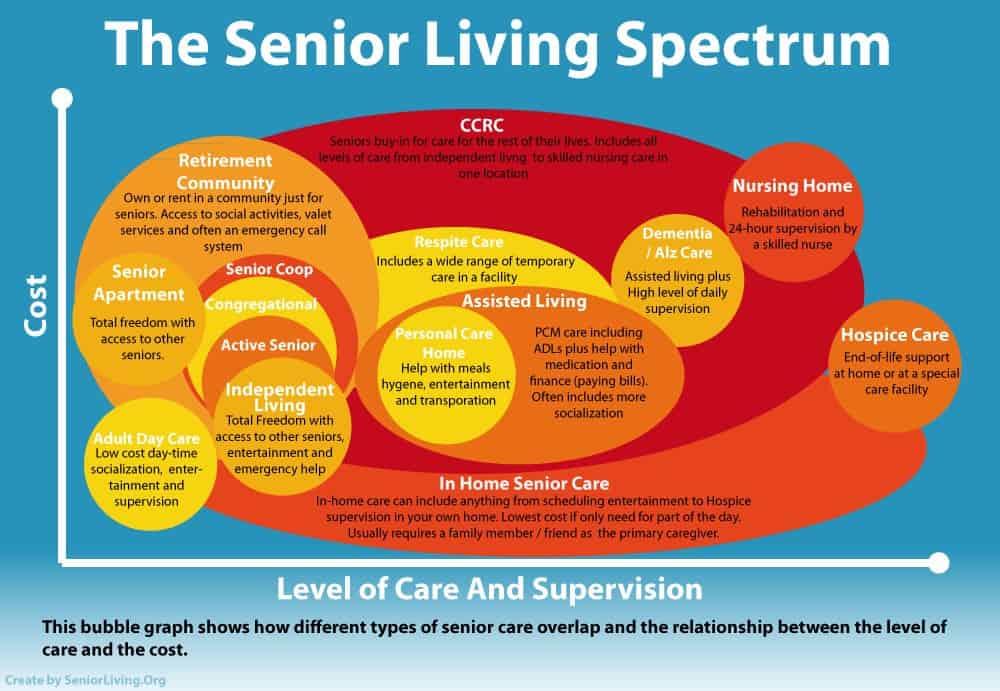 In home elderly care is on the lower end of the spectrum as far as cost and longevity. According to The Genworth 2017 Cost of Care Survey, the daily cost of paying for a semi-private room at a nursing home is $286, and a private room is $334. Versus the daily cost of a home health aide which daily costs around $163. The cost of remaining in the comfort of your own home while still receiving the care you need is priceless. Here at Senior Helpers, our mission to you, is to ensure a better quality of life for our elderly clients and their families by providing dependable and affordable services.
Are you overwhelmed by the process of finding adequate and affordable elderly care services for your loved one? Contact us today at Senior Helpers for more information on how your loved one might benefit from in-home care.
Senior Helpers – Sacramento/Placer provides compassionate caregivers to help our local seniors with day-to-day tasks such as housekeeping, meal prep/planning, and transportation as well as providing assistance with bathing, dressing, medication reminders and more. Our mission is to improve the life of seniors and help relieve the burden on their families. If your loved one lives in Sacramento or the surrounding areas (Roseville/Rocklin, Folsom, Rancho Cordova, Elk Grove) and you would like more information, please call us at 916-671-5777 or Contact Us.