Halloween is one of the best holidays because you can make it as family friendly or spooky as you want it to be! This holiday brings out the kid in everyone! From the creative costumes to fun decorations in and around the home, and last but not least, who could forget the candy? This is the perfect opportunity to include your elderly loved ones in the festivities. If it is too chilly outside for your loved one, you and your family can always spend some quality time handing out candy and seeing kids dressed up in their costumes! Get into the spirit of Halloween and encourage your loved one to join you in some of the following family-friendly activities:
Food
Sugar free candy in addition to the traditional treats.
Ghost shaped mashed potato with peas as their eyes for dinner
Pig-in-a-blanket mummies
"Vampire Juice" (tomato juice is a great source of vitamins and minerals!)
Deviled egg eyeballs (just add a black olive and maybe pimento or roast red pepper slices to make it "bloodshot")
Jack-o-lantern face pizza (cheese pizza with pepperoni and olive eyes and a little pepperoni or sausage smile)
 Movies 
Hocus Pocus
Beetlejuice
It's the Great Pumpkin Charlie Brown
The Addams Family
The Legend of Sleepy Hollow (cartoon)
Music
The Monster Mash – Bobby "Boris" Pickett
I Put A Spell On You – Screamin' Jay Hawkins (or the Hocus Pocus version!)
The Addams Family Theme Song
Devil Went Down to Georgia – Charlie Daniels Band
Bad Moon Rising – Creedence Clearwater Revival
Thriller – Michael Jackson
Don't forget the costumes and fall festive decorations! If you don't want to go all out decorating for Halloween, there are fun and simple Autumn decorations that make for fun simple tasks. From using leaves that might be right in your backyard, to taking a trip with your loved one to the dollar store, decorating does not have to be expensive or stressful!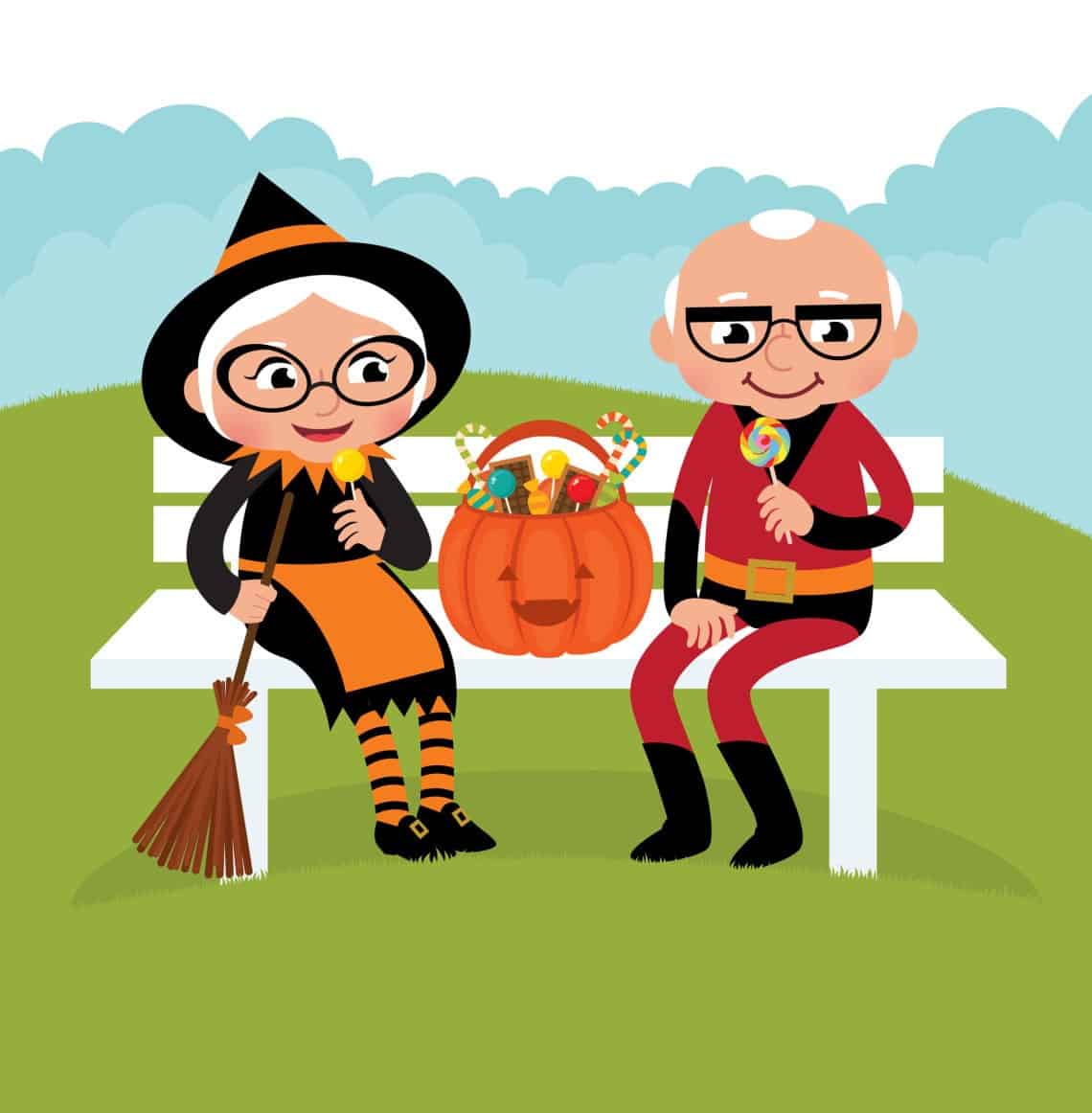 There are many simple costume ideas that you can put together last minute! There is always the classic, "ghost" that can be made with a simple white sheet. The comfy sweat suit can be an athlete as well! "Where's Waldo?" is an easy last-minute idea too. Throw on a striped shirt, and glasses. If you have recycled 3D glasses you can pop out the lenses and use them without spending any money! You can even help your loved one dress up as a favorite celebrity from their generation!
Just remember, have fun and treasure those special moments with your loved one this holiday season!