Everyone knows it is very important to eat a healthy diet, though a lot of us struggle to commit to one on a consistent basis. Nevertheless, in regard to your loved ones, it's more important than ever to make sure they're eating wholesome meals.
However, what exactly defines a balanced diet? In the age of a meal plans and diet trends for all body types, it's easy to lose sight of what exactly our bodies need. It is all about going back to basics when it comes to seniors.
That means you'll want a full, healthy plate: To get a better idea of how to start eating healthy there are 6 simple steps broken down by the National Council on Aging (NCOA).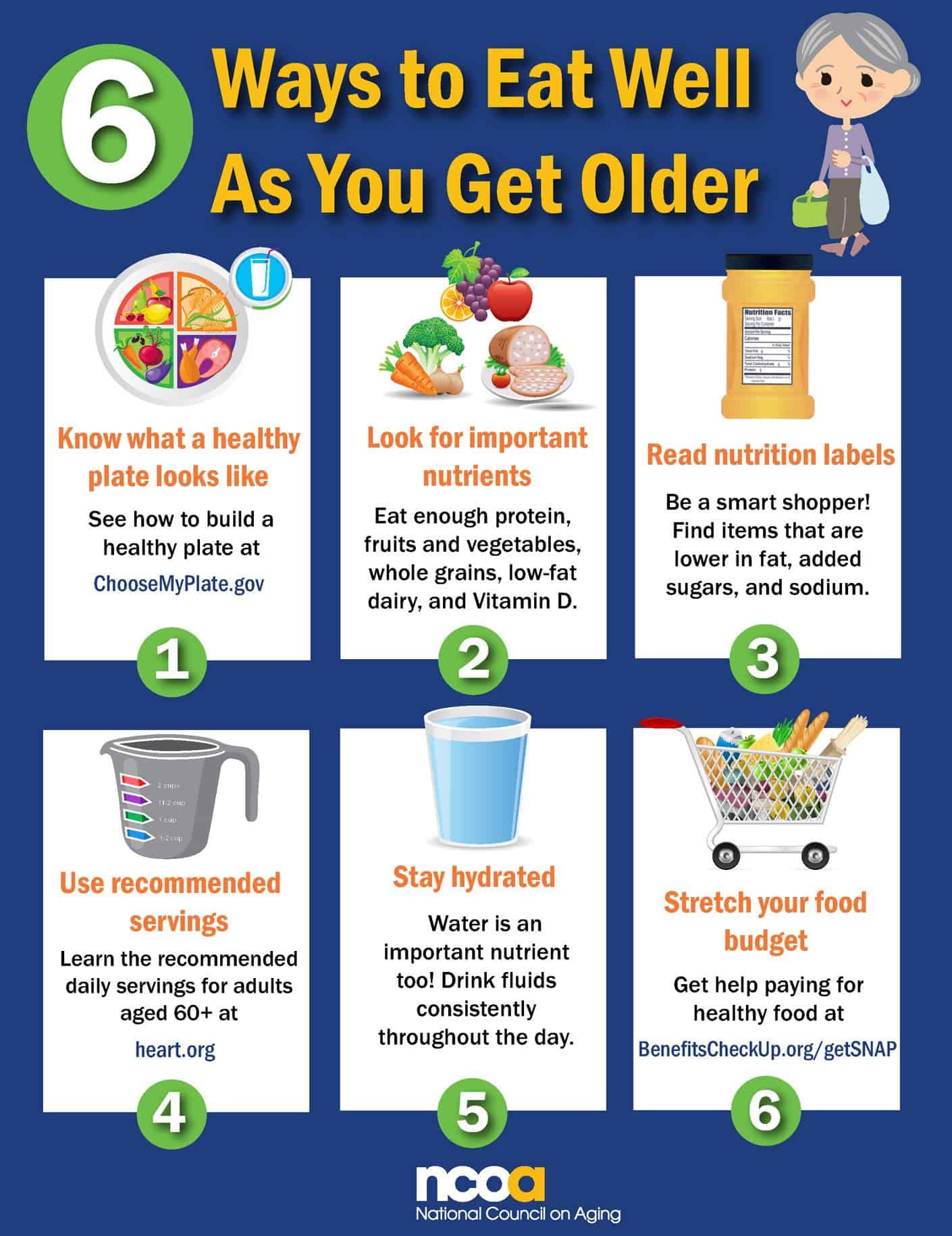 For a more detailed picture of suggested servings from each food group check out this article from the American Heart Association.
So why exactly is it so important to keep a balanced diet as we get older? In short, our bodies stop working as efficiently as they used to, and they stop processing food as well if they're not healthy and balanced. We tend to take those daily functions for granted.
If you don't put gas in your car, what happens? Or when you fail to change your oil or another check-up function? It slows down, stops running smoothly, it can overheat or catch fire, and eventually stops working all together. Our bodies work in a similar way, but rather than a "check engine" light, occasionally things internally just slow down and stop functioning. Every now and then, we'll have a sign from internal discomfort or pain. When it comes to seniors especially, failing to support our bodies with a proper nourishment just hurts us until it is sometimes too late.
Seniors are not the only ones that benefit from good nutrition, young people can be affected as well when they don't maintain a balanced diet. Some examples of the benefits include a stronger mental capacity, an increased level of energy, and a stronger immune system. The better we eat, the better we will feel – and the length of our life is increased!
In a world where we're always looking for answers concerning our nutrition, the easiest and best ways reach our objectives and to improve our health are the easiest ones. This is especially important when it comes to seniors.
Do you need assistance with meal prep or planning for your loved one?
Senior Helpers – Sacramento/Placer provides compassionate caregivers to help our local seniors with day-to-day tasks such as housekeeping, meal prep/planning, and transportation as well as providing assistance with bathing, dressing, medication reminders and more. Our mission is to improve the life of seniors and help relieve the burden on their families. If your loved one lives in Sacramento or the surrounding areas (Roseville/Rocklin, Folsom, Rancho Cordova, Elk Grove) and you would like more information, please call us at 916-671-5777 or click the Contact Us link at the top of this page.