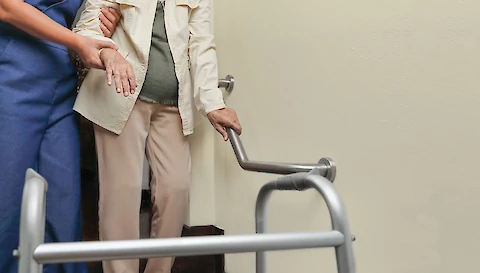 Most articles focused on winter home safety for seniors stress the importance of ensuring walkways are shoveled, and stairways remain clear. When you live in the Napa area, it's hard to relate. But is your comparatively balmy weather enough to keep your elderly family members safe from winter-related harm? Maybe not. Although you may be spared the additional burden of snow, ice, and sub-zero temperatures, the following suggestions could help reduce the risk of injury this winter and ease some of the frustrations related to limited mobility.
#1 – Inspect or Install Handrails & Grab Bars
Age-related balance problems often start mid-life. Since the progression is gradual, your loved one may not realize they've become unsteady until they've taken a tumble. As you're inspecting your home, take a few minutes to ensure you have handrails installed on both sides of your staircase. Once you've established they're sturdy and well-anchored, consider installing wall-mounted grab bars within reach of your toilet and in (and around) your shower or tub.
#2 – Consider the Lighting in Your Home
Current reports suggest people over 65 are 30% more likely to have at least one major fall. The risk increases dramatically for seniors over 80. With a growing body of evidence suggesting improved lighting conditions could help reduce the risk, consider taking note of the following suggestions as you make your list of winter maintenance goals:
Dark-colored walls and ceilings absorb up to 4 times more light than off-white. To improve the visibility in your home, look for a matte-finish paint with a light reflective value (LRV) of 70-80 for walls and 80-90 for ceilings.
Poor lighting dramatically reduces depth perception. Hallways, stairways, and bathrooms are a particular concern. For a better visibility, install low-cost step LED light strips or smart lights with dusk-to-dawn sensors.
Senior eyesight takes longer to adjust to different lighting levels. Ensuring uniform lighting in adjacent rooms can make the transition easier. If your home needs more balance, consider adding tabletop lamps or sheer lampshades as needed.
#3 – Have Your Chimney & Furnace Inspected Annually   
People of a certain age lose body heat quickly. Although you may not consider your weather conditions a significant hypothermia risk, consider keeping your thermostat set to at least 68 degrees. To ensure your furnace works when you need it, schedule maintenance annually. If you have a fireplace, your chimney should also be cleaned and inspected each year.
#4 – Keep Your Floors Senior-Friendly
Some of the most effective home safety measures are the easiest to overlook. This winter, inspect each room for area rugs that could pose a tripping hazard or make navigating the room with a cane or walker difficult. Then, check to ensure bath mats are secured, electrical cords are tucked near the wall, and your floors and stairways are clutter-free.
Let Senior Helpers Help You Keep Your Loved One Safe This Winter
Winter can be particularly dangerous for seniors. Although there are numerous steps you can take to improve home safety, you may not feel comfortable leaving your loved one home alone the entire time you're away. For in-home care in American Canyon, St Helena, Fairfield, and the surrounding areas, contact Senior Helpers® of Napa.
At Senior Helpers®, we offer a wide range of professional services, from companionship and light housekeeping to walking assistance and 24/7 remote care monitoring. We look forward to providing your loved one with the help they need to continue living independently.