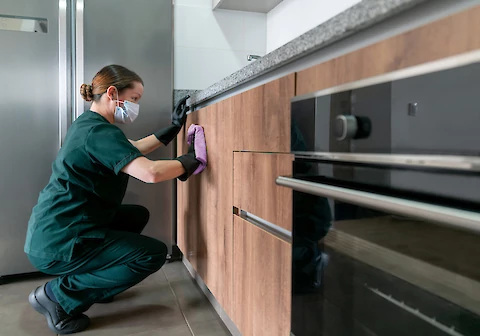 How Hot Summers Can Change Your Elderly Relatives' Housekeeping Capabilities
Summertime means vacation time for lots of people. You deserve a pat if you're lucky enough to clean your home before the summer heat arrives. As the weather heats up, older homeowners often become concerned about being able to keep up with the workload. Even though they have great intentions, some don't have the tools to handle a summer job. As temperatures rise, air conditioning systems take over, and the number of hours spent outdoors decreases dramatically. This factor increases the cleaning frequency and makes it harder for older persons to stay on top of housekeeping needs.
For example, they must clean windows and doors to prevent condensation and eliminate dust particles. Is your older relative having trouble keeping up in the summer heat? If yes, you might consider hiring someone who can help with some daily activities around the home.
Benefits of Hiring Paid Services
At least 27% of older persons in the U.S. live alone and do their housekeeping, but they don't want to live like that forever. The good news is that private duty care can include light housekeeping services for people who struggle with daily tasks such as cleaning bathrooms and cooking meals.
Caregiver
Most people prefer to live independently for as long as they can. They don't want to rely on other people. It is especially true for older persons with limited mobility from the summer heat that might prevent them from working outside their homes.
The benefits of having a caregiver are endless. The older population doesn't have to live alone anymore. Caregivers provide emotional support by assisting them in dealing with stress and loneliness in their life. Besides, hiring someone to help with housework and errands can give family members peace of mind because their relative is receiving care. It also lets them enjoy quality time with new friends.
Housekeeper
Most of the older population prefers to stay in their homes rather than move into retirement homes because homes are familiar, comfortable, safe, and affordable. Besides, having a home helps older persons save money for future expenses.
While a Caregiver may help with light housekeeping, sometimes, more extensive housekeeping assistance is necessary. In those instances, working with a housekeeping service would be helpful. When you hire a housekeeping service provider who follows strict standards and procedures, you get;
Reduced stress
Enhanced health
Improved psychological well-being
Increased life satisfaction
Hiring a professional housekeeper can solve your issues of clutter and messes. In addition, they also offer added benefits such as cleanliness and hygiene.
Landscaper
Hot summers also mean taking extra precautions against heat-related illnesses. Often, older persons and their families don't realize they need to pay special attention to their health during the summer months. 
Hiring a professional landscaper means that your older relative won't have to spend time on lawn care or gardening.
The benefits include:
Less Hassle – The older persons don't have to worry about mowing grass, watering plants, and cleaning pools in the hot summer weather.
Increased Safety - Since they are experts, landscapers always take safety precautions before working around plants and other potential hazards.
Get Help with Housekeeping From Senior Helpers Tempe
Summertime means time off, but that doesn't necessarily mean time to relax. It also means hot weather, and heatwave season brings its share of problems. When the temperature starts rising, it's essential for older persons to feel cool, especially if they live in an area where extreme heat is typical. 
Do you live in Tempe, Ahwatukee, Mesa, Chandler, South Phoenix, Central Phoenix, Arcadia, Biltmore, Laveen, Sun Lakes, Queen Creek, Gilbert, San Tan Valley, Casa Grande, and Maricopa? If your loved one can't keep up during a hot summer, consider hiring a caregiver to assist them. 
Senior Helpers Tempe offers in-home care and personalized care wherever your patient is. Contact us at 480-745-2493 or schedule an in-home assessment.