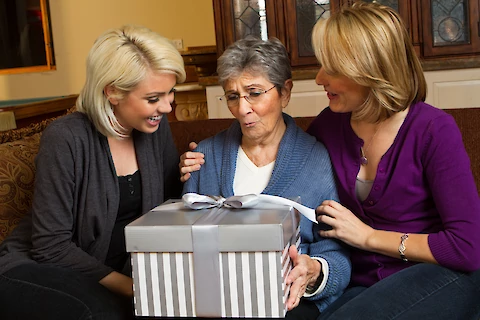 Mother's Day is an important time to honor the devotion, affection, and sacrifices made by moms everywhere. This day holds even more meaning for senior moms who have shared a lifetime of beautiful memories with their children and family. You can show your appreciation by giving them a heartfelt and thoughtful gift. Here are some gifts to consider:
Material Gifts
A meaningful gift for a senior mom is a customized photo album or scrapbook filled with cherished memories from years past. Browse through family photos, choose the best ones, and arrange them in a way that shares her story. This considerate gift will warm her heart and make her smile.
Comfort items like a soft blanket, comfy slippers, or a heated throw make excellent gifts. Choose items that match her taste and preferences, ensuring they will bring relaxation and comfort to her daily life.
Personalized jewelry, such as a necklace or bracelet engraved with her name or a special message, can remind her of your love and affection. For gardening enthusiasts, give her gardening tools, supplies, or a potted plant that is easy to handle and encourages her favorite hobby.
Consider a tablet, e-reader, or audiobook subscription for technologically-minded senior moms. Opt for user-friendly devices or services designed for seniors' needs.
Experiences and Activities
You can spoil your mom with a spa day or massage to show your gratitude for all she's done. Find a spa or masseuse experienced in catering to seniors, guaranteeing your mom a relaxing, rejuvenating time.
Plan a fun family outing, like a picnic, museum visit, or movie day. You should choose an activity she enjoys while keeping her comfort and mobility in mind. Enroll your mom in an art or craft class if she enjoys being creative. Find classes designed for seniors, offering a social environment to learn new skills and make friends.
A cooking class or meal delivery service can make her dining experience more enjoyable without the hassle of preparing meals herself. Research senior-friendly options in her area.
Long-Distance Celebrations
If you're unable to be with your mom on Mother's Day, plan a virtual family gathering. Help her set up a video call with her children and grandchildren. Subscription boxes, such as Senior Wag Box, crafted for seniors, can make great long-distance presents. These boxes can contain snacks, books, puzzles, and more, offering a monthly surprise.
"Open When" letters are heartfelt messages your mom can open on specific occasions or whenever she needs extra love and support. Schedule regular phone or video calls with your mom to maintain a strong connection from afar. Consistency is key - you want her to know that you're just a call away.
Let Senior Helpers Tempe Help 
For Mother's Day, let's celebrate our senior moms and the love and wisdom they've shared with us. Select a thoughtful gift or experience from our list to make her feel special and loved. If you need professional support caring for your senior mom in Tempe, Ahwatukee, Mesa, Chandler, South Phoenix, Central Phoenix, Arcadia, Biltmore, Laveen, Sun Lakes, Queen Creek, Gilbert, San Tan Valley, Casa Grande, or Maricopa, Senior Helpers Tempe provides premium senior care services. Contact us to learn more.